Sid The Science Kid Giveaway
I'm a big proponent of science. I was even a physics major for awhile in college. So I like anything that helps to teach my children about the workings of the world around them. In addition, I'm a big fan of pretty much everything that the Jim Henson Company makes (and has made), from the Muppets to the television show Dinosaurs to Farscape. When I watch a Jim Henson production, I can be sure that it will be entertaining and high quality. Sid The Science Kid is no exception.
Sid always begins the show puzzled by a certain phenomenon. Whether it be a banana gone bad or shoes that "mysteriously shrink", Sid wonders how the event happened. Just like any good science kid, or grownup, Sid uses various tools to figure it out. He looks up information on the computer (aided by his mother), he comes up with a few theories (aided by his school yard friends), and he performs some experiments (with the help of Teacher Susie). In the end, Sid understands just what makes that phenomenon occur and starts to dream of putting it to good use (in his Super-Duper-Ooper-Schmooper Big Idea). The translation of the processes that real scientists go through is faithful while remaining understandable to children.
NHL has loved the Sid the Science Kid television show for quite awhile (as I've mentioned in the past). During a recent trip to a toy store to shop for Chanukah presents, he noticed the Sid toys. He was drawn to them and wanted one. In the end, we we decided to get him other items, but thanks to The Jim Henson Company and KCET (PBS/Los Angeles), NHL will soon have a Sid The Science Kid Talkin' Sid to review. Ok, technically it is for me to review, but you don't think I'm not going to recruit him to review it as well, do you?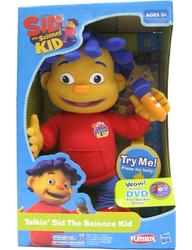 You can save $3.00 off the purchase of the Talkin' Sid The Science Kid plush at Toys 'R Us by going to Coupons.com and clicking on the "Toy and Game" link on the left hand side of the page. Talkin' Sid The Science Kid is currently only available at Toys 'R Us.
But, wait, there's more! (I've always wanted to say that.) I've been presented with the opportunity to give away one Talkin' Sid The Science Kid plush to a lucky reader (or a lucky reader's child as the case may be).
TALKIN' SID THE SCIENCE KID
(Ages 3 years & up/Approx retail price: $24.99/Available Now)
Now kids can bring their friend SID home with the lively TALKIN' SID THE SCIENCE KID plush character. This soft and loveable plush SID is 12 inches tall and comes ready to play and learn with his iconic "microphone." Squeeze his belly to hear seven different popular phrases from the series. Requires two "AA" batteries, included.
Rules for Giveaway:
MAIN RULE – Answer the following question: What phenomenon would you like to see Sid investigate on Sid The Science Kid?

1 Bonus Entry – Follow me on Twitter @TechyDad. Post a comment here with your Twitter username.
1 Bonus Entry Per Day – Tweet about the giveaway. Be sure to include @TechyDad in the Tweet. Please leave a direct link to your Tweet in a separate comment for each daily entry. Example Tweet (feel free to use): Chance to win a Talkin' Sid The Science Kid Plush from @TechyDad. http://www.techydad.com/?p=1426
1 Bonus Entry Per Comment (limit of 3) – Post a comment one of my other posts from November or December. Be sure to leave a comment here telling me which post you commented on.
3 Bonus Entries – Write a post on your blog linking to my blog about the Sid The Science Kid giveaway. Be sure to leave 3 comments about this to get credit for all of your extra entries
To enter, please follow the rules above within the comment section. Contest starts today December 7th and ends at Noon EST on December 14, 2009. You don't need to be a blogger to enter, but I do need you to leave a valid e-mail address in your comment so I can contact you for your mailing address once the giveaway is over. I'll select the winner using random.org and will contact you via e-mail. Once the e-mail is sent, you will have 48 hours to claim the prize. If there is no response, another winner will be selected. Open to U.S. residents only.
Disclaimer: As stated above, I am going to recieve a complimentary Talkin' Sid the Science Kid to review. I haven't recieved it as of this posting, but I figured that this giveaway should go live as early as possible. When I recieve my Talkin' Sid, I (and NHL) will review it and will post the review on this website.