#BlogHer10 Memories Part 3 – Welcome To BlogHer!
We woke up to BlogHer 2010 Day 1 ready for the day ahead. Luckily, our previous fears of being eaten alive by bedbugs didn't come true. We showered, got dressed and headed downstairs way too early. We could see tables full of delicious food in the final stages of being set up. We waited patiently and then got a table so we could take turns getting food/watching our stuff.
When it was my turn, I actually let people skip ahead of me. Being a photo geek, I was stopping to take photos of everything before serving myself the food. I didn't want to slow anybody down, so I would step aside for them to pass/get their food and then would proceed taking photos. Here's what was served to us for breakfast. (NOTE: I didn't eat everything in these photos. If I did, I'd have had to roll from session to session!)
After breakfast, we talked with slpowell, ResourcefulMom, and MilitaryMama. We did a bit of tweeting/e-mail reading prior to the speech. Well, B and Christina did tweeting/e-mailing. I couldn't get online.
Maybe it had to do with these people.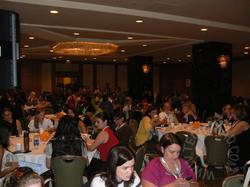 Or these people.
It definitely didn't have anything to do with her: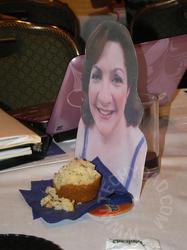 As far as I know, she didn't even really do anything during that time except eat that muffin. Boy do those two-dimensional bloggers love muffins!
Eventually, the speech began and, once that was done, we went to the Expo for a bit. This was only a quick trip where we saw the Chevy Volt, a Raving Rabbid (who got a little too fresh with Christina, apparently), Microsoft's new Natal system and Dora the Explorer. How's that for a combination?
We had to leave the Expo early, though to get to the Blogging Autism session. This was a last minute change for us after NHL's behavioral diagnosis (which has since been changed… more on that in a later post.) It turned out to be a very informative session for us. During the session, I tried coming up with a few questions to ask, but never came up with anything good so I just sat, listened and tweeted highlights. Meanwhile, CutestKidEver live blogged the session.
After the first session, we had some lunch. Yes, I took photos again. Like I said, I'm a photo geek!
I went a bit overboard on the desserts, going back for a second plate of them, but BOY did they taste good! After lunch, it was time to digest in another session….. But that's going to have to wait for my next post since this one's way too long already!