TechyDad After Dark: The #BlogHer10 #EdenFantasys Party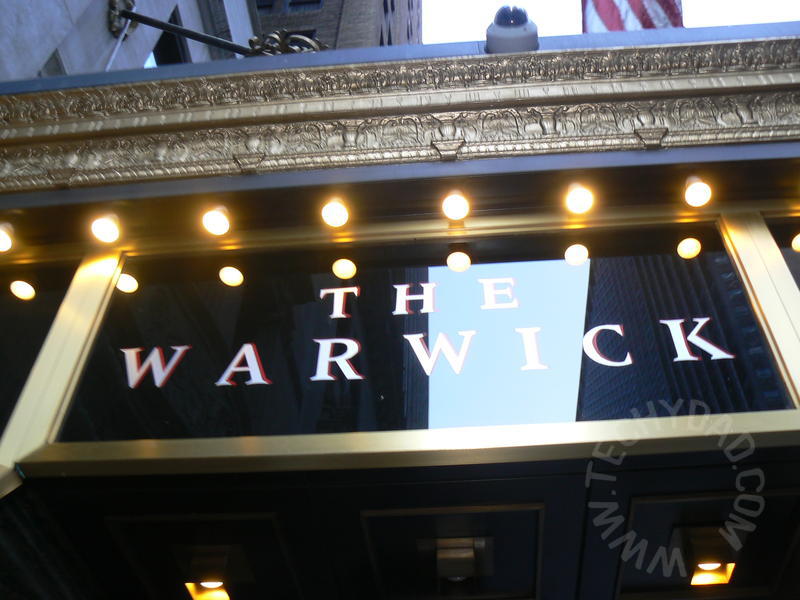 This is a warning. The rest of this post is NSFW. It involves "toys of an adult nature" and photos. No, the photos don't show the toys being used for their intended task, but some of the toys themselves aren't safe for viewing in the office. So I'm providing a break below. Click the "read more" link to read the entire post. If you're in the office, don't click and wait until you get home. If you can't stand the sight of "realistic looking toys", then just forget that this post ever happened.
There, now that all of you are in the privacy of your own home, I'll begin the story. As I mentioned earlier, I met Jenn before and after the Bringing Sex Out of the Closet session. She had mentioned a party that Eden Fantasys was throwing in their suite. There would be treats and dildo decorating. I knew we just had to attend. I'm pretty straight-laced about many things, but how often can you say you got to go to a dildo decorating party?
When the BlogHer party time approached, B, CutestKidEver and I walked to The Warwick hotel and crammed ourselves into their tiny elevators. (Seriously, those things were small!)
We cautiously approached the room and knocked on the door. Jenn answered and in we went. After speaking with her and Victoria, briefly, we made our way around the room. There were plenty of snacks and buttons:
Some toys to admire. These were not for use during the party! It definitely wasn't *that* kind of party!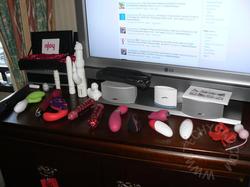 And then there were the dildos along with feathes, glue, glitter, pipe cleaners and other decorating essentials.
A table directly behind the dildos (how many times can I say that in one blog post?) contained chocolate lollipops that were decidedly *not* for kids, condoms (meant to be made into earrings though I'm sure they could have other uses), and some other decorating supplies.
It wasn't long before everyone got down to the serious business of decorating their dildos.
The creations showed a lot of imagination. There was David. Note the "fig leaf."
There were simple creations:
And very elaborate creations:
Here's one in the early stages and when it was finished:
There was an angel (not made by my angel):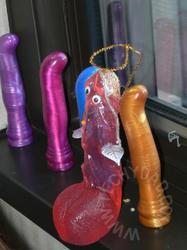 And, of course, I decided to make a devil:
Which, in turn, prompted the angel's creator to spruce up her creation. Though many of us had never met before, somehow decorating dildos brought us closer together.
B even got into the act (though this is the only photo she'd allow me to post of her working):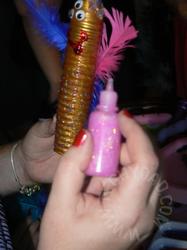 CutestKidEver seemed to be having a blast as well.
Before long, we needed to leave to attend other BlogHer parties. We left our creations in Jenn's care so that they could dry overnight. The next morning, we headed over and woke Jenn and Victoria up. Jenn apologized for being in her pajamas without any makeup on and we apologized for waking her up. We picked up our dildos and headed back to our room to pack up to leave the Hilton. I later found out from Jenn that we were the only ones who picked up their decorated dildos. Now why would someone want to leave creations such as these behind?
Jenn and Victoria, fortunately, were able to take the remaining masterpieces back with them. I do think it would have been funny to have seen the cleaning staff's faces had they discovered a dozen or more dildos all dressed up with nowhere to go! On a side note: I don't think I've said/typed the word "dildo" so many times in my life.
Thanks Jenn, Victoria and Eden Fantasy's for a wonderful party!