A Festival of Frightful Proportions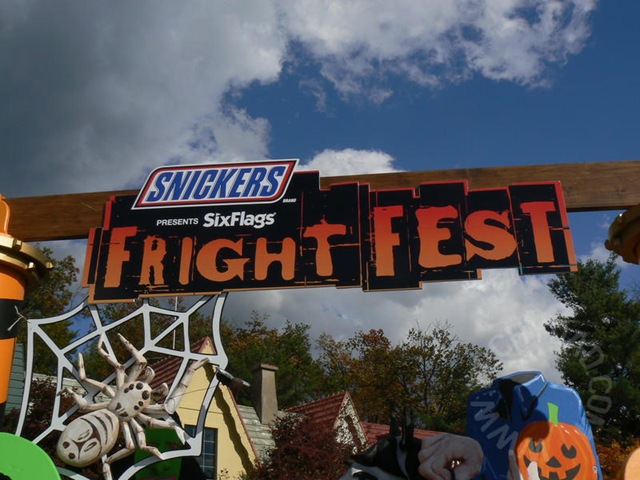 On Sunday, we headed over to Six Flags.  We had been meaning to go back there ever since NHL's incident back in June.  With only a couple of weekends left in the season, we decided to make the trip.  Of course, this time of year, Six Flags parks decorate for Fright Fest.  This means plenty of (phony) spider webs and ghoulish decorations.
There was also lots of candy both of the giant display-only variety and trick-or-treat edible variety.
The kids got to trick or treat a bit and then go on tons of rides.  This was even more fun than our usual summer trips because: 1) we weren't dying from the heat and 2) the lines were insanely short.  A few rides let NHL and JSL take a second pass without exiting because there simply weren't that many people waiting on line.  A few times, they were the only ones on the ride!
They were a bit disappointed that the characters weren't out, but at least Tweety was (dressed as an angel).
Hey, it's Tweety and NHL Putty Tat…. uh, I mean lion.
After tons of rides, the evening was approaching.  Not only did this mean we would have to leave because it was a school night and we needed to eat dinner, but it meant we had to leave because the scarier elements of Fright Fest were coming out.  There were guys with chain saws wandering around lunging at park goers.  Yes, the chain saws are fake, but they sound real and are scary to little kids.  You could buy your kid a "don't scare me" necklace for $3 but that sounds like some kind of weird Halloween extortion to me.  Unfortunately, I didn't get a photo of the chain saw guy as I was busy herding my kids away from him so they wouldn't get scared.
Even worse, I missed a zombie photo opportunity.  While waiting on our last line, a woman walked…. well, stumbled by with pure white eyes and a sliced up smile.  She was clearly a member of the walking dead.  She would stumble up to people and engage them for a bit before shuffling on.  How I wish I could have jumped off line, leaving B with the boys and gotten a photo of her.  But the way the line was set up (and as close as we were to the front of it), that just wasn't an option.  After exiting the ride, I looked for her, but she was long gone.  Off to score some choice brains, I suppose.
All in all, it was a great time.  Perhaps we'll even go back another time in the next week or two before the park shuts down for the winter.