Apple Picking and Pumpkins Too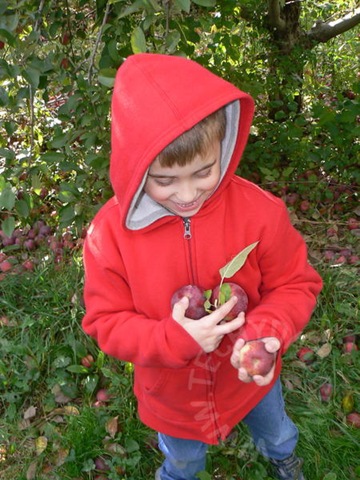 On Saturday, we were trying to figure out what to do.  We had wanted to go apple picking for some time, but weather, Jewish holidays and other things kept getting in the way.  With the weather cooperating and no other plans on our agendas, we finally decided to stop by the local Pick-Your-Own place.
Needless to say, the boys were excited.  They love picking their own produce.  Not only do they get to wander around outside in the fresh air in large fields, but they get to pluck things off trees and put them in bags.  This may sound like a simple thing, but the simplest things are sometimes the most entertaining.  The bonus is that they can eat what they are plucking!
I tried to get shots of everyone, but I must confess that the photos were a bit JSL-heavy.  That's mainly because NHL was too quick.  He was off, finding apples, plucking them, sticking them into his bag and running off to the next tree for more.  Meanwhile, JSL was having trouble navigating all of the apples that had dropped to the ground.  This meant he was slower and more photographable (if that's a real word).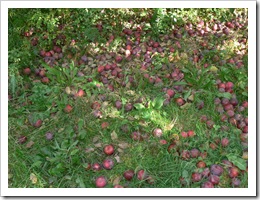 In the end, we picked 29.5 pounds of apples.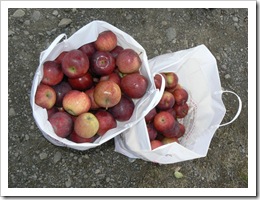 Our fridge is now packed full of apples and we're going to need to figure out what to do with all of them.  Slow Cooker Apple Sauce will be made, but we'll need to come up with some other things as well.  We have some frozen pie crusts…. Maybe apple pie?
During our apple picking, we also stopped by their pumpkin patch to get a pumpkin for carving.  There were plenty of interesting specimens here for us to look at.
In the end, we decided that these had been sitting on the ground during too many rain storms.  So many were rotting that we were worried that any "non-rotting" one we picked wouldn't last until Halloween.  On the way back, we passed a place with plenty of pumpkins to pick from.  (Try saying that three times fast!)  Here we picked a 22.5 pound pumpkin which will soon be sliced and diced into a Jack-o-Lantern.
I plan to save the innards to make something with.  Roasted pumpkin seeds, of course, but I'm open to other "pumpkin innards" recipes.
We headed home with a car 52 pounds heavier and a pair of very happy boys.  Hurray for pick-your-own farms!
What are your favorite pumpkin and/or apple recipes?