A Date Night Full of Blue Spice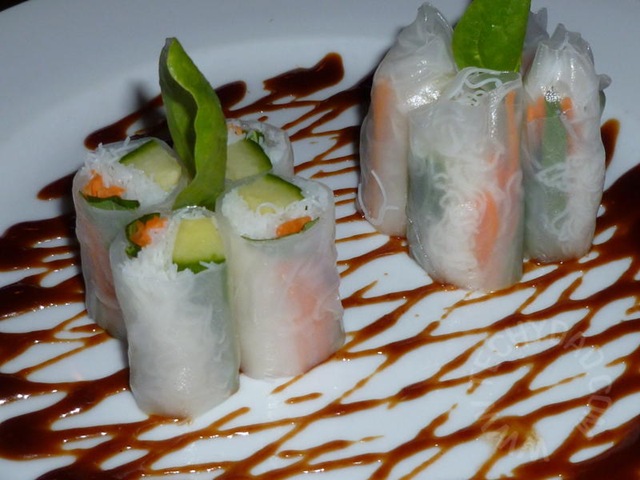 On Friday night, B's parents took the boys and we got to have an all-too-rare date night.  We've been on a weight loss plan, so eating out is tricky.  You don't want to blow your progress by eating at some high-fat, high-calorie, stuff-your-face-until-you-hurl restaurant.  On the other hand, what's the purpose of going out if you don't indulge a little?
We went to Blue Spice, a new (to us at least) Thai restaurant near us, and I was drooling from the start.  It all looked so good.  And best of all, there was a whole group of dishes that were vegetarian!  You could add chicken or beef, but adding veggies or fried tofu kept them vegetarian-friendly.
We started with the fresh basil rolls.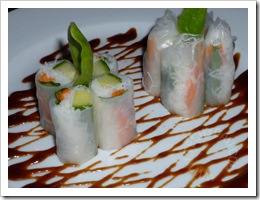 This was zucchini, vegetables, rice noodles and, of course, fresh basil all wrapped up in rice paper and served with a honey tamarind sauce that brought back memories of ordering duck in New York City's Chinatown.  Delicious!
Next, we shared two entrees.  First was a ginger mushroom dish with onion, carrot, zucchini, scallions, green peas and shiitake mushrooms with our fried tofu. All of this was served in a ginger mushroom sauce.
We also got the sweet and sour dish which consisted of onions, red pepper, fresh pineapple, carrot, tomato, zucchini and fried tofu.  This was finished with, as the menu put it, the chef's "mother's recipe sauce."
I loved that the veggies were all fresh.  They seemed like they had just been sliced for our dish (and very well might have been).  The serving portions seemed small at first, but it was quite deceptive.  When we finished our dishes, we were quite full.  We declined dessert, but there were some interesting options that might tempt us when we go back.  And we will go back.  There are too many dishes I didn't get to try that are making my mouth water.