Blood Donated, Lives Saved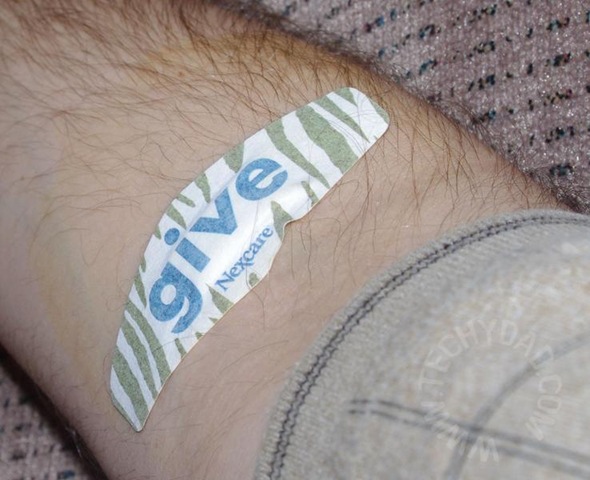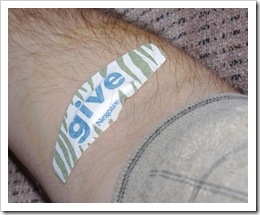 On Saturday night, fueled by a rush of coding creativity, I stayed up way too late.  It was 2am before I shut down my computer and crawled into bed.  Luckily, the next day, B & the boys let me sleep late.  (Well, after NHL's usual 6am wake-up call to ask if it was ok for him to stay out of bed, go to the couch and watch TV.  Why can't he learn to sleep in on the weekends?!!!)  I couldn't sleep too late, though, because I needed to go give blood.
I try to give blood often, but I'll admit that in recent years I haven't gone as often as I could.  When I heard that my Temple was running a blood drive, though, I figured I should attend.  So I headed on down, read the now-familiar introductory pamphlets, got the various health-related tests (the iron finger-stick still hurts), answered the now familiar screening questions and then was shown to a cot.
I showed them my blood-giving arm, my right arm with the big vein popping up.  As always, the needle stick didn't hurt.  It's more of a quick pinch.  I still can't watch it be done, though, for fear that I'll flinch at the worst moment.  The little needle stick was uneventful, though, and soon blood was flowing into a collection bag.
At that point, I asked what was likely an unusual question.  I asked about taking  photos  I explained that I was a blogger and would be blogging about this.  She said I could take photos anywhere except for the questionairre area (due to personal information that is discussed/displayed there) and of the needle itself (as people might be scared off of giving blood if they see a needle close-up photo).  I completely agreed and she took a photo of me giving blood.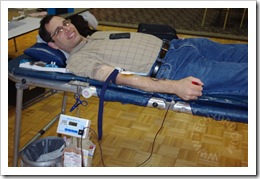 As I squeezed a rubber ball, keeping the blood flowing, the collection bag quickly filled.  The needle was carefully removed and a bandage was applied.  Of course, before I left for the snacks area, I had to take a photo of my blood in the collection bag.
Then I was off to the snacks area for the usual assortment of juices and cookies as well as a special treat: cannolis!
All in all, giving blood is mostly painless.  The slight pinching of the needle stick and pain of the finger stick are minor when compared to what you are giving.  The blood you give is separated and given to up to three people.  Yes, three people's lives might be saved because I took an hour out of my day to give blood.  I'd say that's an hour well spent.
Although my kids couldn't come with me, I talked with them a lot about it afterwards.  I showed them my bandage and let them know everything that was done.  I told them that it didn't hurt much and wasn't scary.  I emphasised how good it was to save lives and promised that they could come with me to give blood when they are older.  I look forward to the day when I can walk into a blood drive with my two boys and watch as they give blood for the first time.  (NOTE: "Look forward to" doesn't mean "can't wait."  Stay little for as long as possible, NHL & JSL!!!)
If you would like more information about giving blood, you can head on over to the American Red Cross Blood Donation website.  Have you ever given blood?  If so, when was the last time you've given?
Disclaimer: The American Red Cross didn't compensate me for this post in any way.  I did this because I feel that giving blood is important.