Kung Fu Panda – General Mills Giveaway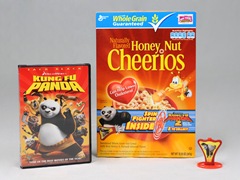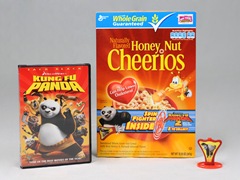 I'm a big fan of animated movies, especially the recent crop of computer generated ones.  With computer animation, you can create fantastic tales that would be impossible to tell otherwise.
When Kung Fu Panda was in theatres, B took NHL and JSL to see it.  Sadly, I did not accompany them (since I was in the office).  When the trailers for Kung Fu Panda 2 came out, I knew I'd have to watch the first before seeing the sequel with my boys.  Luckily, thanks to General Mills, and Dreamworks, I can do just that.
I received a Kung Fu Panda 2 Prize pack which included a Kung Fu Panda DVD, a box of General Mills cereal (I got Golden Grahams®) and a Kung Fu Panda spinner.  The cereal box also contained a second spinner which, luckily, kept my boys from fighting over the toy.
Giveaway
Would you like to win the same prize pack?  Well, luckily for you, I'm giving away another Kung Fu Panda 2 prize pack (courtesy of General Mills and Dreamworks) with a Kung Fu Panda DVD, spinner and a box of cereal.  (The cereal can be Cocoa Puffs®, Trix®, Golden Grahams®, Reese's Puffs®, Cheerios®, Apple Cinnamon Cheerios®, Cookie Crisp®, Lucky Charms®, Cinnamon Toast Crunch or Honey Nut Cheerios.)  To enter, simply leave a comment below answering this question: Who would you take with you to see Kung Fu Panda 2?
You can also earn bonus entries by doing any (or all) of the following items. Just be sure to leave a separate comment for each item that you complete.  (Don't just leave one comment listing everything you did.)
Follow @TechyDad on Twitter. (1 bonus entry)
Tweet about the giveaway on Twitter. Be sure to include @TechyDad and a link to this post in the Tweet. (1 bonus entry per day) For example: Win a Kung Fu Panda-General Mills Prize Pack from @TechyDad #Giveaway http://bit.ly/mKBcCL
Subscribe to my RSS feed or let me know if you already are. (1 bonus entry)
Leave a comment on any of my non-giveaway posts from May/June. Leave a comment here letting me know which post you commented on. (1 bonus entry per comment, maximum 3 entries)
Enter any of my open giveaway posts (excluding this one, of course).  Leave a comment here letting me know which giveaway you entered. (1 bonus entry)
Write a post on your blog linking to this giveaway. Leave 3 comments about this to get credit for all of your extra entries. (3 bonus entries)
To enter, please follow the rules above within the comment section. Contest starts today, June 2nd and ends at Noon EST on June 16th, 2011. You do not have to be a blogger to enter, but must leave a valid e-mail address for me to contact you for mailing address once the giveaway is over. I will select the winner using random.org and contact you via e-mail. You will have 48 hours to claim the prize. If there is no response, another winner will be selected. Open to U.S. residents only.
Disclaimer: The products were provided for this review by General Mills and Dreamworks as part of a MyBlogSpark campaign.  The opinions expressed above are my own.