Fun Times At The New York State Museum, Part 3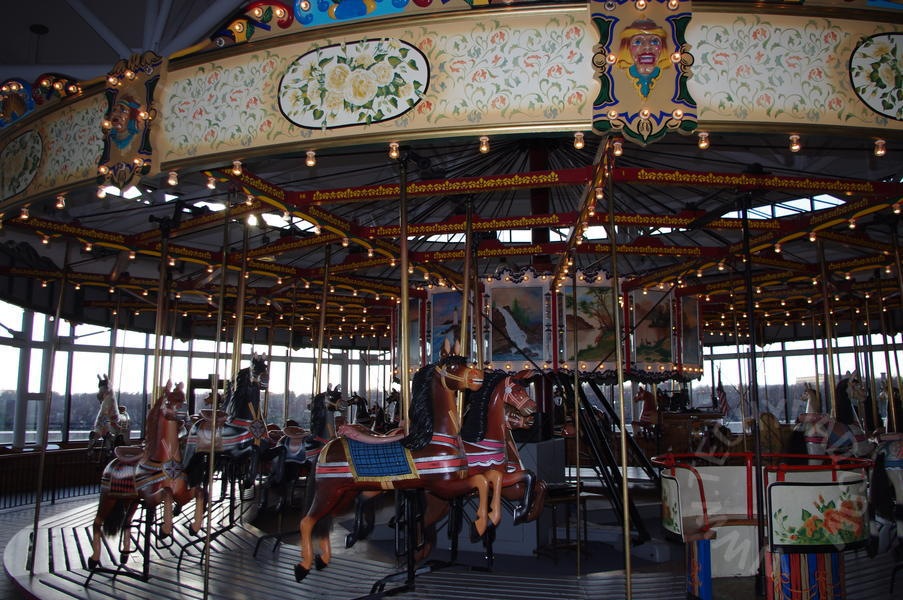 Over the last two days, I've recounted how we saw animals and made seed packets.  I also told of our train ride to Sesame Street.  Now it was time for what was going to be arguably the kids' favorite time of the trip: The carousel.
First, a little history.  This isn't a new carousel.  It's quite old.  It was first made between 1912 and 1916, but some of the horses date to the 1890's.
The operator told us that it is given 15 minute rest times between runs to prevent breakdowns.  In fact, we were told, it's so old that if it ever breaks down, they won't be able to fix it!  Still, 15 minutes is an easy wait as the upside to this being an older carousel is that it goes faster than more recent ones.
During our first run, JSL and Cousin S took seats in a spinner.  NHL and Cousin B grabbed side-by-side horses.
Talk about old, this is what played the music to go along with the ride.
After this first run, we looked at a few exhibits that were on this floor.  Then, the kids enjoyed some rock candy.
I even got a nice photo of a church that is right next to the museum.  Love the architecture.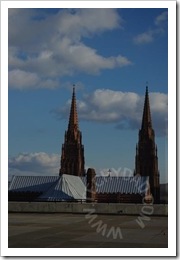 Before we knew it, our 15 minute wait was over and it was time for ride number 2.  Cousin B took a horse again.  JSL and Cousin S took side-by-side horses.  NHL decided to ride by himself on a spinner.  (This was on the other side of the carousel so I couldn't get good photos of him from where I was supervising JSL and Cousin S.)
When the ride was over, the kids went back to their rock candy until it was time for one final ride.  This time, NHL and JSL mounted matching donkeys,  Meanwhile, Papa went on the spinner with Cousins S & B.
During the ride, I noticed the beautiful marble eyes that the animals had.
Finally, the ride was over and it was time to leave.  Mind you, this was over protests of "one more ride."  Still, it was getting late and we needed to leave.  It was a fun time and the boys are already itching to go back.