The Search For A Baby Boy Doll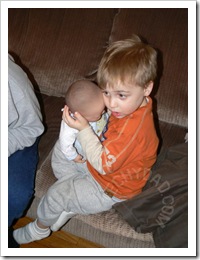 Back when B was pregnant with JSL, we wanted NHL to get ready for being a big brother.  We decided to get him a small baby boy doll to help him practice.  It wasn't easy, but we finally tracked one down in a local Toys 'R Us.  NHL named him Howie Harry.  Howie after Howie Mandell, host of Deal or No Deal, and Harry from Harry and His Bucket Full of Dinosaurs, a favorite TV show of his at the time.  (It's standard practice in Judaism not to name after the living, but seeing as Howie Harry's not a real baby, I don't think there's a problem.)  Anyway, Howie Harry became a loved member of our family and gave NHL lots of practice.
Fast forward to the present day.  JSL now wants a "Howie Harry" of his own.  No, B's not pregnant again.  He's just obsessed with having a little baby of his own.  We decided that he has some Chanukah gift cards (not to mention some unused ones from his birthday last year).  We'll let him use them to buy a little boy doll.
That is, if we can find a little boy doll.  On Saturday night, we checked two stores for a doll to no avail.  On Sunday, I called four more stores and checked in four other stores.  All I found were baby girl dolls.  We did find one baby boy doll in one store, but was quite pricy.  It's one of the ones that coos and wets its diaper.  All we want is a basic baby boy doll.  Is that too much to ask for?
Apparently, toy manufacturers and toy store owners think that: 1) Only girls play with dolls (note that the doll aisle is all pink whereas the other aisles are more "gender-neutral" colors) and 2) girls only want to play with little girl dolls.  Why can't little boys play with dolls?  And why can't boys and girls play with baby boy dolls?
Have you ever seen a baby boy doll in the doll aisle?