Touching Without Ever Meeting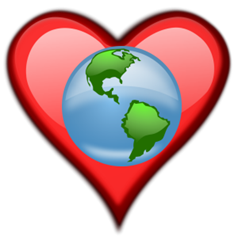 You may or may not have heard, but Susan N (aka WhyMommy) passed away yesterday.  She had been battling inflammatory breast cancer.  This aggressive form of cancer doesn't show up with the lump that other forms of breast cancer have.  She batted this cancer for years, but unfortunately lost her battle.  She left behind her husband and two young boys (4 and 6).
Thanks to the Internet, though, she has touched the hearts of people all over the world.  People who never met her, who only knew her through blog posts and Twitter updates, felt the pain of her passing.  When I got home yesterday, I saw a tweet about her passing and hugged B as she cried.
In a way, it's weird to feel such sorrow over the death of someone we've never met.  Yet, this is the power of the Internet in general and social media in particular.  People can find other people with similar interests and/or situations no matter where those people may be.  Once those people find each other, they can converse, aid each other, or perhaps just be sounding boards.  In many different ways, they can touch people's lives way beyond their physical reach.
Where we live, we don't have too many close, face-to-face friends to talk to in person.  I can't really head out to see "the guys" and discuss marriage, parenting, life, the Universe, and everything.  However, by simply opening up my favorite Twitter application, I can reach hundreds of dads and moms with questions ranging from the mundane to the vitally important.  I can share sorrows and joys and form friendships.  These friendships aren't any less real because I've never greeted the person face to face.  In many ways, they are stronger since you know that, where ever you are, your friends are a smartphone or computer away.
So, while we mourn Susan/WhyMommy's passing, let's celebrate our friends and family online.  Consider this a great, big virtual hug to you, dear readers.  Now go pass it on to another online friend.
Disclaimer: The "Heart-World" image above is derived from two images on OpenClipArt.org: Heart Gloss 3 and Glossy Globe.