A Tie Surprise
A few days ago, JSL gave me an early Father's Day present.
Inside was a very special tie.
Yes, it's a tie snake.
JSL kept asking me when I was going to wear it, but I kept putting it off.  Then, yesterday, I surprised him.  I wore a different tie to work, but changed into the snake tie when I went to his nursery school graduation.
JSL was surprised and happy.  Even when the snake tried licking him.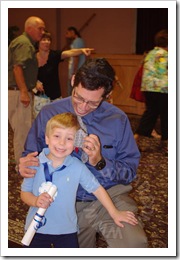 I'm so proud of my now-Kindergarten Kid.
Later on, I found out that one of JSL's teachers saw me wearing my snake tie at the graduation and (unbeknownst to me at the time) teared up.  She told B that the ties were her father's.  He recently passed away and she donated the ties for the kids to use in their snake tie project.  She had never seen anyone wear them.  It made her very happy to see me wearing it, as if a piece of her father still lived on.  This makes the tie even more special to me.