The Tale of The Finger-Friendly Ladybug
Over the weekend, I took NHL and JSL to the park.  As I pushed them in the swing, I looked down on my and and saw a tiny creature longing on my knuckle.  Yes, a ladybug was using me as a rest stop during a long trip in the air.
I didn't have my DSLR with me (when will I learn not to leave it at home?), so I tried to get some photos of it with my Droid.  While pushing my boys.  But not while using the hand that the ladybug was lounging on.  Somehow, I made this work.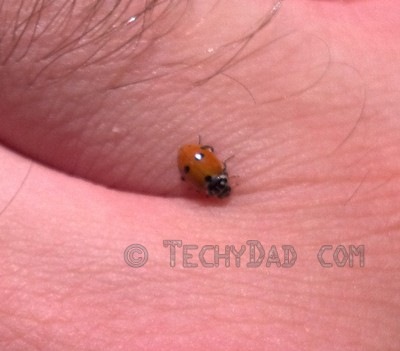 Eventually, though, my boys got interested in what I had on my hand.  NHL wanted nothing to do with it, stereotyping it as a "bug."  I explained how ladybugs were "good bugs" and ate the bad bugs that would otherwise destroy plants.
JSL, meanwhile, wanted the ladybug on his hand.  We carefully moved his finger nearby.  After it tried running from his approaching finger, it finally went on his nail.  He was so happy (and this let me take an even better photo of it).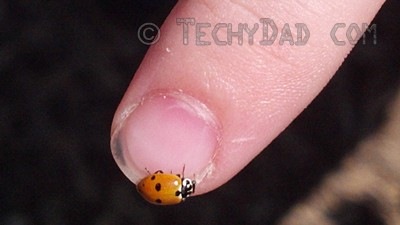 Sadly, the ladybug soon fell off of his finger as he walked across the park.  It recovered quickly and flew away, leaving JSL sad and missing his little friend.  Thankfully, we'll always have a photo of his park encounter to remember the tiny visitor by.  (Yes, I might just have to print out a photo of that last photo for JSL.  He's taken to loving putting together photo books to remember occasions.)
How would your kids react if a ladybug landed on your hand?