Kermit Potter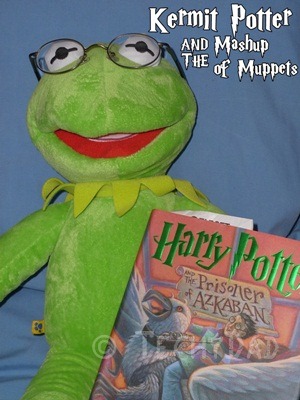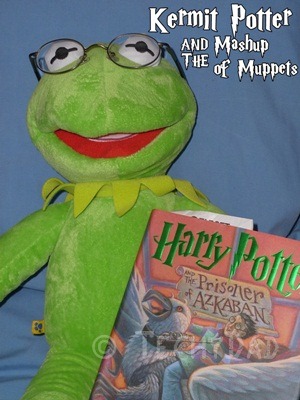 The other day, we were driving and the subject of NHL's birthday party came up.  He had wanted a Muppets themed party, but switched awhile back to Harry Potter (inspired, no doubt, by the fact that we're reading the series together).  Then, when the difficulty of making Harry Potter cupcakes became apparent, he reverted back to Muppets.
As we went back and forth, I jokingly suggested putting Harry Potter glasses on the Kermit cupcakes to make Kermit Potter.  We laughed and then ran with the idea.  Mrs. Piggy would have to be Hermione Granger, of course.  Slightly hapless, but well meaning Ron Weasley would be best played by Fozzie Bear.  Meanwhile, completely hopeless Neville Longbottom would have Beaker taking his place.  Hagrid was an easy pick: Sweetums (the large, brown, hairy Muppet perhaps best remembered for running after the other Muppets in The Muppet Movie after being mistakenly left behind).
We couldn't decide on who should play Voldemort, but I voted for Gonzo.  (He's done villains before since he's Darth Vader in the Muppets Star Wars sets that Disney sells.)  Of course, he'd be Weirdomort with a huge shnozz instead of serpent-like slits.  As we debated this, NHL had a stroke of genius.  The Dementors, he declared, should be Gonzo's chickens.  (Instead of the Dementor's Kiss, the Cluckmentor's Peck?)  Mind you, NHL is still on Prisoner of Azkaban so he doesn't know how the Dementors will align with Voldemort.
We're still conflicted who Dumbledore should be.  Jim Henson is a big possibility, but I think he should be a Muppet figure.  It would have to be a "wise" figure to which Harry…. I mean Kermit Potter goes to for help.  Maybe Dr. Bunsen Honeydew?
The identity of Severus Snape was another problem until I stumbled upon a site that did their own Muppet-Harry Potter mashup.  (Sadly, I've lost the link to that site.)  Snape is a proud individual who sees himself as better than rabble like Harry and his friends.  Thus, Sam the American Eagle is perfect for the job.  Lupid was an easy pick: Rowlf the dog.  For Dobby the House Elf, we chose Rizzo the Rat.  Finally, Professor Trelawney was thought of as the Swedish Chef (even though he'd be playing a female character), but then I figured that Janice would be a better fit.
What Muppet would you cast in a Muppet-Harry Potter mashup and as which Harry Potter character?