Training Dragons Live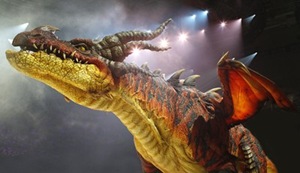 Three years ago, B and I took the boys to the Walking With Dinosaurs show.  We were amazed by the realistic looking dinosaurs walking around the stage.  I've long loved dinosaurs (when I was young I wanted to be a paleontologist) and it was great to see my kids' interest being sparked.
Many of the same people who made the amazing dinosaurs come to life have set their sights on a group of more mythical creatures: dragons.  Twenty-three dragons will walk, fly, and even breathe fire during Dreamworks How To Train Your Dragon Live Spectacular.  The dragons are very realistic looking (well, as far as fantasy creatures can be).
These aren't merely small, light-weight props, either.  Each dragon weighs up to 2.6 tons and have wingspans up to 46 feet.  One dragon, Toothless, weights nearly 4 tons and flies over a mile during the show.  That's like having an SUV flying above the audience.  The entire production requires 30 18-Wheeler trucks to transport.  In other words, it's a big show.
Of course, I haven't seen it yet so this isn't a review.  That will come later.  In the meantime, though, I've been reading up on the show and am getting very excited about it.  Here's a trailer for the show:
We haven't told NHL and JSL about the show just yet.  That will be a surprise for three weeks from now.  I'm sure they'll be amazed by the show and will likely come out of it wishing they could have their own dragons to train and ride.  (Given their size, though, I'm going to go out on a limb and say that I'll be glad we don't have to feed one of them!)
If you are interested in attending a show, you can find tour dates and tickets by going to http://www.dreamworksdragonslive.com/tickets.php.  If you are in the Albany, NY area, the show will run on Thursday, October 4th through Sunday, October 7th in the Times Union Center.  In addition, you can save 25% off the cost of select seats by using the promo code "MOM".
Disclaimer: I received tickets to the How To Train Your Dragon Live Spectacular for me and my family.  The images above were provided to me for use in my post.  However any opinions, not to mention enthusiasm, stated above are my own.