A Dragon VIP Experience
Yesterday, I wrote about the DreamWorks How To Train Your Dragon Live Spectacular show.  Our fun didn't begin, or end, with the show, however.  We were treated to the full VIP Experience.
Our VIP treatment began as we were allowed in early.  We were given VIP badges, gift bags with some How To Train Your Dragon merchandise, and even an exclusive 3D poster.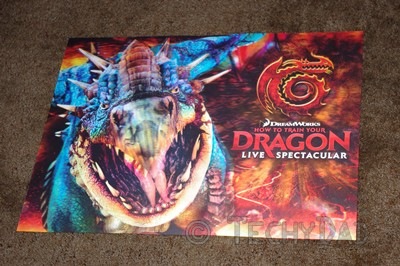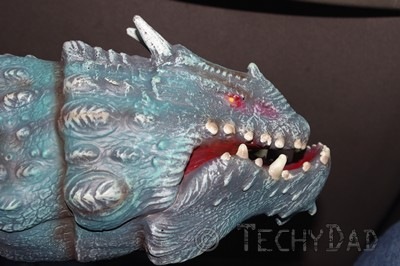 After this, we were guided to an area where we got to don Viking apparel and weaponry.
Once we were all dressed up, we posed in front of a green screen.  Our picture was taken and, magically, we were transported to the Isle of Berk.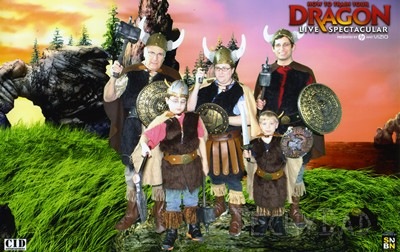 After removing our Viking paraphernalia, we moved on to another closed off area.  Here, we waited for a bit until a familiar pair of Vikings arrived.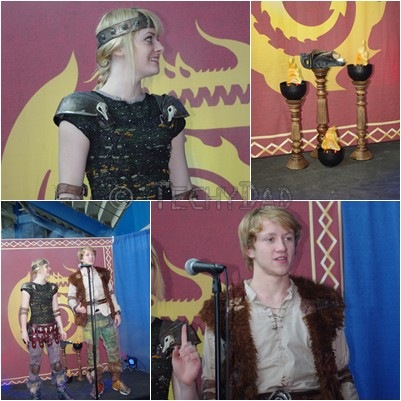 Yes, we got to meet Hiccup and Astrid.  NHL was so excited, I almost had to hold him back from charging up to them to hug them.  After a short while, we were able to take a photo of all of us with them.
Soon, it was time to take our seats for the show.  Once the show was finished, as everyone else left, we headed towards the front of the arena.  It was time for Dragons 101.  Our tech teacher was Ben (aka Ben The Bold, Ben The Brave, or Ben The Beautiful… his words, not mine. ;-)  )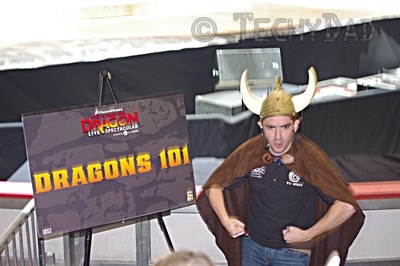 Here, while the crew worked on the dragons in the background, Ben explained about dragons, rigging, pyrotechnics, and more.  It was amazing to hear just how much work went into the show.  Both of my boys asked interesting questions.  JSL asked how they made fire without hurting people.  (They use gas filled boxes which the operators set off to create fireballs.  However, the boxes have sensors to detect if someone is too near and won't go off if someone is.)  NHL asked how big the Red Death dragon was.  (So big that it doesn't fit in the backstage or through the opening they have.  They actually deflate and inflate it like a balloon.)
The VIP Experience turned a magical show into an over-the-top amazing experience.  Thanks to everyone that was involved.
Tour dates and tickets can be found by going to http://www.dreamworksdragonslive.com/tickets.php.  In addition, you can save 25% off the cost of select seats by using the promo code "MOM".
Disclaimer: I received tickets to the How To Train Your Dragon Live Spectacular and VIP Experience for me and my family.  However my opinions (and excitement) are my own.