Multiple Night-Time Wake Up Calls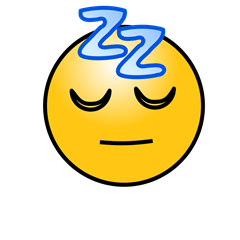 As I'm writing this, I'm tired.  Very, very tired.  The previous couple of nights is a bit of a blur, but I do know that JSL was up… a lot.  He would complain about his toes itching, complain about having bad dreams, complain about being afraid of the dark, etc.  Every time we thought he was asleep for good, every time we would get back to sleep, he'd wake up once more.  We tried putting him in our bed, putting him back in his own bed, everything.  He just wouldn't stay asleep.
Part of it might be his breathing.  We're not sure if he's starting to come down with a cold or if he's just been having a bout of bad dreams.  Either way, his nighttime antics have left the two of us frustrated and exhausted.  Here's hoping that he (and his brother) will sleep through the night for a few nights so we can get some actual sleep.
NOTE: The "Emoticons: Sleeping face" clipart above is by nicubunu and is available from OpenClipArt.org.