Diagnosis, Asperger's, NHL and Me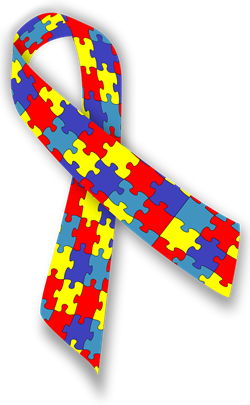 A few months ago, I mentioned having some big news.  Huge news.  However, I couldn't share it at the time.  This led to some people wondering what it could be.  Well, after many weeks of keeping quiet about it online, we're ready to reveal what it is.  But first, some history.
About five years ago, when NHL was only four years old, we wondered about whether something was up with him.  He didn't seem to fit in socially like the other kids did.  He had trouble if a routine changed.  He would have fears way beyond what is age appropriate.  We went to one doctor after another and kept getting different advice.  Nothing seemed to help, though.
The closest we got to a good diagnosis was that he was gifted (IQ of over 135), but even trying to address his supposed boredom in the classroom didn't help.  NHL was still yelling in class, cutting up paper, running around the classroom, freaking out whenever his routines changed, and more.  The teacher tried to be patient with him, but she had to teach the other kids as well.  Besides, we feared that he was painting a huge "Bully Me" target on himself with his actions.
Finally, at the end of our rope, we went to a neuro-psychologist.  She went to NHL's class and, without him knowing, observed him for three and a half hours.  Then, not too much later, NHL met with her one on one for about four hours.  The report she put together from these meetings and observations was long, comprehensive, and difficult to read.  Within its pages, we read of kids moving their desks away from NHL, kids rolling their eyes at him and calling him weirdo, and other socially isolating events.  NHL, with his actions, was doing just what we feared.  He was isolating himself and making himself a target for bullying.
The good thing about the report, though, was that we finally had a diagnosis.  NHL was diagnosed with Anxiety Disorder and Asperger's Syndrome.
On the anxiety front, his fears would come upon him so fast and so strong that there wasn't the barest hope of him keeping them in check.  The best I can describe it would be that he pictured the worst possible outcome in his head.  Then, once that outcome was imagined, he would assume it was certain to occur.  Next, he would totally freak out including yelling, stomping, running away, etc.  It didn't matter if we were at home, if he was in a classroom, or if we were in the middle of a store.  His fears could be based on school work (homework was a half hour scream-fest) or a super-massive black hole destroying humanity.  Thankfully, new strategies have helped him calmed down a lot and we can head off his fears before they turn into full-blown panic attacks.
When it comes to Asperger's Syndrome, it's not a "condition NHL has" as much it is "a different way that NHL's brain works."  NHL loves schedules, order, and routine.  He doesn't like it when this gets disrupted.  Loud sounds or people getting in his space can make him uncomfortable.  (He'll cover his ears when entering a public restroom in case the electric hand dryer turns on.)  He has intense likes (Math, computers, superheroes, etc) that he wants to share with everyone whether they like the same things or not.  He can tell you how a person should act in a given social situation, but when theory turns into reality, he has trouble knowing what to do.
In fact, many social interactions are tricky for him to navigate.  In the past, he's been naïve enough to not recognize that his social "awkwardness" was isolating him, but he's quickly realizing it now.  He's a kind kid and loves helping and being a friend.  When kids don't want to be his friend, ignore him, or tease him, he feels hurt and doesn't know how to express this or remedy the situation.
He's now getting help learning to cope and deal with social situations.  People with Asperger's have to learn how to navigate the world at large.  His challenges aren't as great as those of a child with a more severe form of Autism, but he still needs to learn the rules of the neuro-typical road.
For those who don't know the phrase, Neuro-typical is the word used to describe people who aren't on the Autism spectrum.  Never use the word "normal" as it insinuates that someone with Autism is some sort of freak.  We aren't freaks,  We just have a different way of thinking.
Yes, I did say "we."
in my "I can't share this yet" post, I said: "This news is so big that it has rattled my very idea of who I am."  You see, as we were reading more and more about Asperger's, I kept stopping and remarking about how that sounded so much like me.  One example: People with Asperger's tend to think in an If-Then manner sort of like a computer.  One of the reasons I make such a good computer programmer is that my brain basically works just like a programming language is written!
Growing up, I had a lot of trouble with social situations.  I never felt completely natural in them.  To me, it seemed as though everyone had gotten the Social Situations Complete Guide while I got the Cliff Notes edition.  I wanted to be social, but didn't quite know how.  I always pictured it as wanting to be in the spotlight, but feeling highly uncomfortable when that happened.
I always figured that I was "socially stunted" by the bullying I went through.  After all, my reaction to being bullied was to withdraw from the world.  The less that I showed to the world, the less the world had to bully me with.  After high school, I tried very hard to tear down those emotional walls and open up.  To this day, though, I still struggle with it.
Maybe my social awkwardness wasn't a result of bullying, though.  Maybe, it was due to Asperger's.  Back when I was growing up, Asperger's wasn't diagnosed.  I didn't have the options that we have for NHL to aid him with socializing.  Of course, the bullying didn't help, but perhaps all these years I had it backwards.  Maybe my social awkwardness was something that the bullies picked up on and used to target me.  Maybe my quest to "be normal socially" was completely misguided because I wasn't neuro-typical at all.
At first, this saddened me.  Was there an upper ceiling beyond which I couldn't top no matter how much I tried?  Was all my hard work over all these years for nothing?  Should I just give up and say "Asperger's" whenever a social situation had me stymied?
For awhile, I wasn't sure what the answers should be.  Then, I heard someone mention that Asperger's doesn't define us.  I can't give up on growing as a person just because I have Asperger's.  It will always be a challenge I deal with, but it won't be the only thing there is about me.  And, with luck, I can use my Asperger's experience to help NHL avoid some of the pitfalls I fell into.
NOTE: The Autism Awareness ribbon icon above was created by Melesse and comes from Wikimedia Commons.