A Quick Stop at Gaston's Tavern #NewFantasyland
Yes, New Fantasyland has Belle, the Beast, Ariel, and more, but there's someone else.  A guy that's admired above all others.  A guy who awes and inspires.  A guy whom all other guys would like to be, even when taking his lumps.
Of course, I'm speaking about Gaston.
Gaston might not have a castle, like Beast does, but he's got a nice tavern in New Fantasyland.
In front, there's a lovely fountain of Gaston and his number one supporter LeFou.
Of course, as Gaston would be quick to remind you, he uses antlers in all of his decorating.
Unfortunately, at the media event, we didn't get to try Gaston's food.  We did get to sample his tavern's signature drink: LeFou's Brew.  It's a frozen apple juice drink with a hint of toasted marshmallow and topped with a passion fruit foam.  I found this quite tasty.  I could definitely see this cooling you down after a hot walk through New Fantasyland.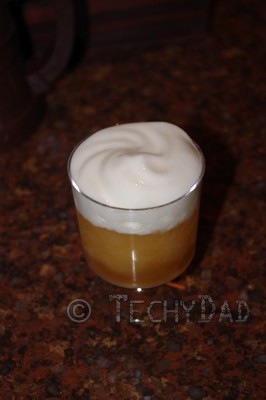 So if you find yourself in New Fantasyland, stop on by Gaston's Tavern for a brew.  If you're lucky, Gaston himself might show up and grace you with his presence.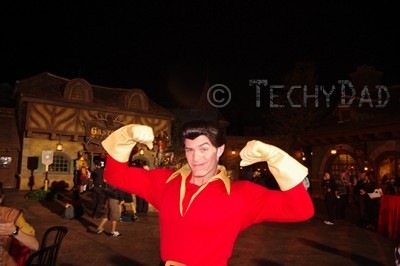 Disclosure: I was invited to the New Fantasyland media event December 5th through 7th. Disney paid for my travel, our park tickets, room, and a few other items. I was able to take B along as my guest, but we paid for her own travel as well as an extra night in the resort. The opinions expressed above are my own.