Disney World Attention to Detail #NewFantasyland
When you come to Disney World, you're in for an amazing time.  Disney doesn't just create an experience, but it creates an amazing experience.  It's the little touches that push it from very nice to magical.
For example, during some downtime before seeing New Fantasyland (don't worry, I'll get to that in future blog posts), we wandered around Art of Animation.  We entered the Cars area and saw these "Burma-shave" take off signs.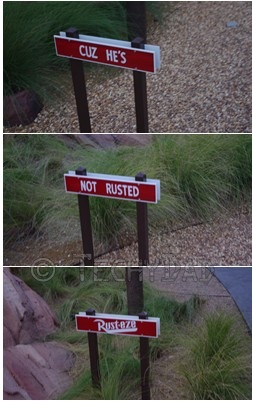 Of course, the stars of Cars were there.  I was most impressed with Fillmore, though.  Not only was he there, but he had a bunch of bumper stickers on him.  Including ones that referenced Pixar creations.
Heading back to our room, the carpet was littered with animal prints.  I thought nothing of it until B pointed out that they were Simba, Pumba, and Timon's prints.  Yes, the trio apparently made the rounds all through the halls here.
So when you come to Disney World and look at all of the magical things around you, don't forget to check out the small touches that bring the magic to a whole new level.
Disclosure: I was invited to the New Fantasyland media event December 5th through 7th. Disney paid for my travel, our park tickets, room, and a few other items. I was able to take B along as my guest, but we paid for her own travel as well as an extra night in the resort. The opinions expressed above are my own.