Enchanted Tales With Belle in #NewFantasyland
When you walk into the new Fantasyland area of Walt Disney World, you are magically transported into the storybook land of Beauty and the Beast, The Little Mermaid, Dumbo, and (in 2014) Snow White.  As you enter, you pass by a humble cabin that belongs to an inventor named Maurice.  Some (I'm looking at you Gaston) call him "crazy old Maurice", but Belle calls him father.
The entry room contains many reminders of the humble family that lives here, including this nice touch: a painting of a young Belle reading a book with her mother.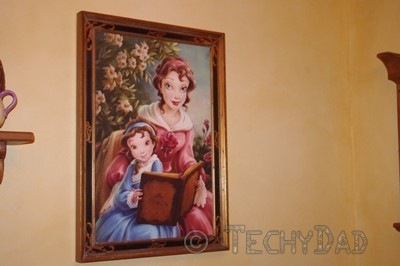 Leaving the entry room you enter Maurice's workshop.  Here are many of Maurice's failed inventions, pressed into service for other uses or just saved in case he needs it in the future.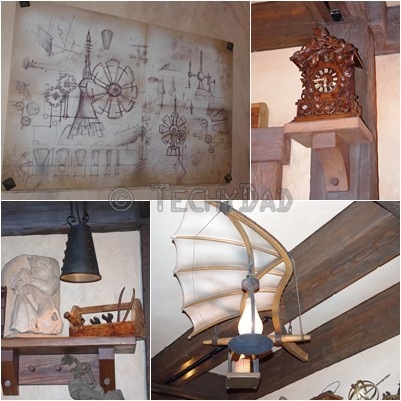 Your guide points out the one feature that seems completely out of place.  A golden mirror hanging on the wall.
The Beast gave Maurice this mirror so he could see Belle at any time.  Magically, the mirror stops showing reflections and instead rapidly travels through woods to the Beast's castle.  As it focuses on the doors, it grows bigger and then the doors open.  At this time, you realize that the mirror has opened too.  You step through and are no longer in Maurice's cabin.  You are now inside Beast's castle and you meet up with the enchanted dresser.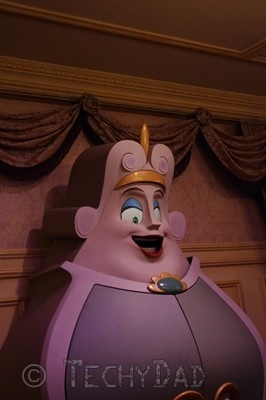 The dresser is incredible.  It really looks like the Disney Imagineers pulled her right out of the Beauty and The Beast movie and stuck her in the attraction.  Her eyes are the most amazing feature.  My guess is that they are LCD screens because they can't possible be classic animatronics.
Dresser (and a cast member) ask you to help put on a play to surprise Belle.  You will be recounting the time Belle and Beast fell in love.  Parts are chosen and props are handed out.  What impressed me here is that they have a large amount of props that can be given out.  Even a group with a large amount of children will find parts for everyone who wants to participate.
With this completed, you are moved into another room.  This one contains a mantle upon which rests Lumiere.  He prepares everyone, dims the lights, and calls in Belle.  And then in walks the Disney princess.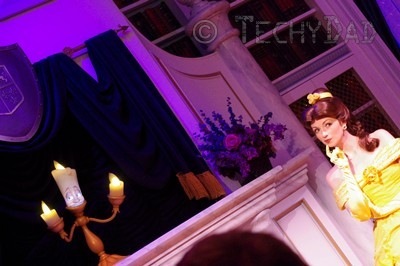 With everyone's help, a play is put on, everyone marches around the room with Belle, and she poses for photos with the play's "cast members."  As an extra special present, she hands out bookmarks to people who had roles in the play.
I'd recommend this attraction to anyone. Even if you don't participate, the entire experience was a lot of fun.  I could see our kids having a blast.  NHL has already said the he'd want to be the Beast.  JSL loves putting on shows and would relish the audience (as well as getting to work with Lumiere and Belle).  This is definitely destined to be an instant Disney World classic attraction.
Of course, words (and photographs without the flash since flash photography isn't permitted) only go so far.  Luckily, Attractions Magazine filmed an entire show and posted it on YouTube:
And that's only the beginning of the magic that New Fantasyland has to offer.
Disclosure: I was invited to the New Fantasyland media event December 5th through 7th. Disney paid for my travel, our park tickets, room, and a few other items. I was able to take B along as my guest, but we paid for her own travel as well as an extra night in the resort. The opinions expressed above are my own.