A Photo-Filled Tour Through Be Our Guest in #NewFantasyland
During our recent trip to Disney World for the opening of New Fantasyland, we had the wonderful pleasure to tour the Be Our Guest restaurant and sample some of its cuisine.
As you first approach the castle, you are greeted by gargoyles.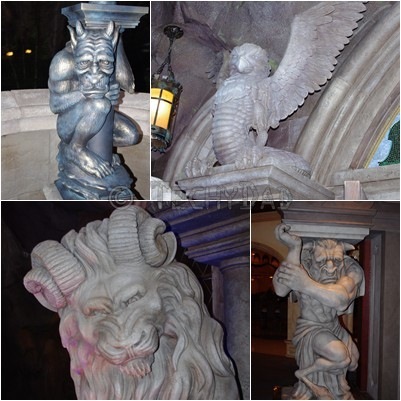 Above the door itself is a stained glass window showing the story of how the prince became The Beast.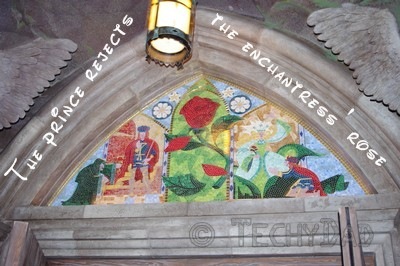 Just inside, there's the conclusion of the story.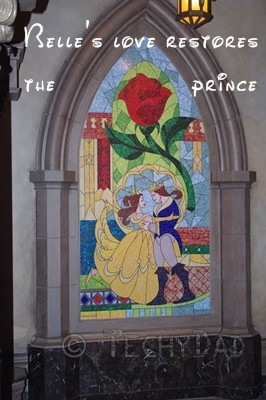 Next, you walk past some enchanted suits of armor.  These are constantly talking amongst themselves and perhaps even sleeping.  Then you pass by a royal looking fireplace.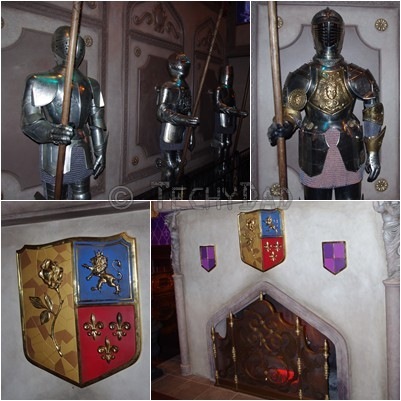 There was also this song on the wall.  I don't speak French and Google Translate wasn't helping (probably due to me misreading the calligraphy lettering).  Any French speakers out there?  What song is this?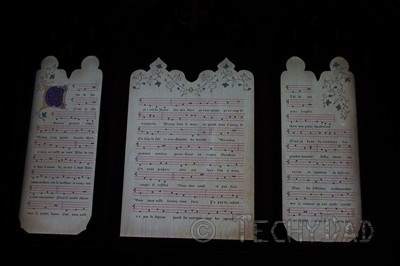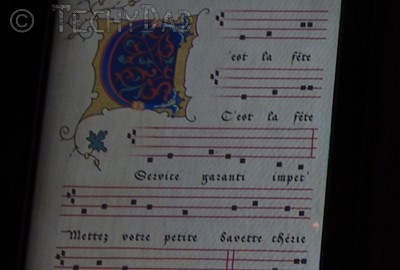 When you get your food, you can decide to eat in the Ballroom, the Library, or the West Wing.
The Ballroom is every bit as ornate as it is in the movie.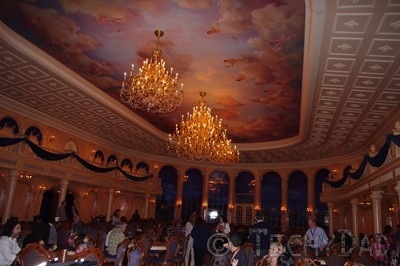 Seriously, just look at this chandelier.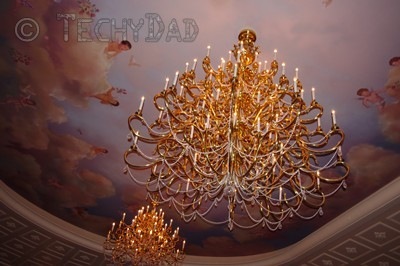 I wanted to have the tables swept aside and waltz across the room with B.
At the end of the room, there's a "window" showing you the snow falling outside.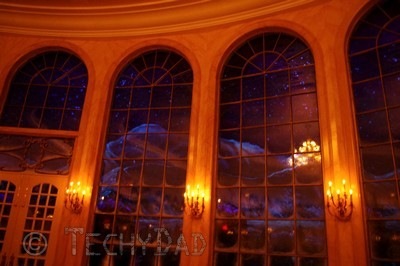 Sadly, low light conditions meant my photo couldn't do it justice.  It's so much more amazing in person.
In the Library, you can see the many paintings that Belle has of The Beast, her, and their friends.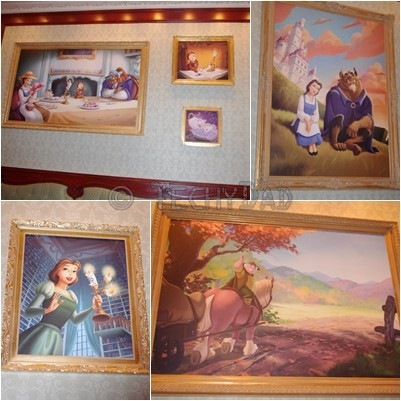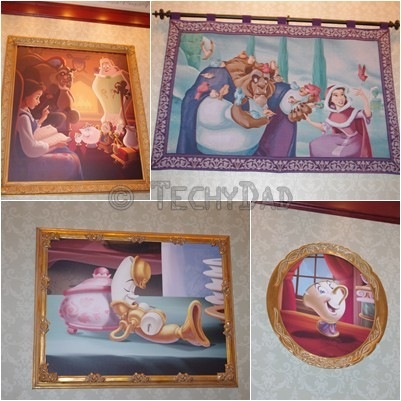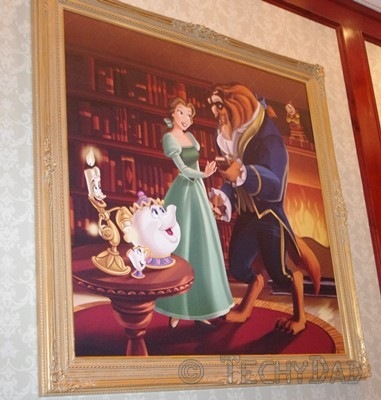 There are some nice touches like this rose carved into a pillar.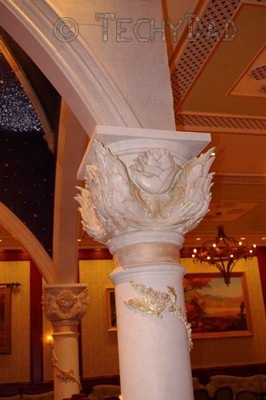 And what is that pillar supporting?  Just a music box.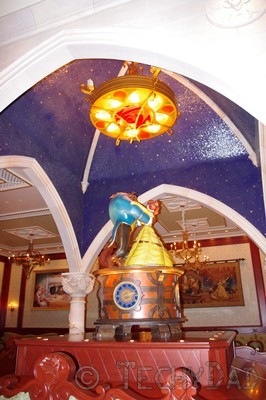 With Belle and The Beast dancing, of course.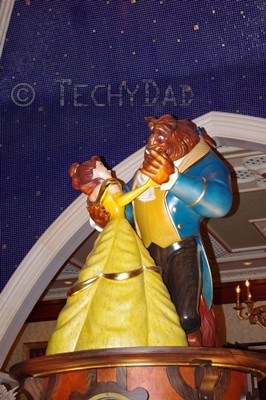 Note to Disney: Please sell small versions of these to purchase.  So.  Adorable!  (And, yes, they do turn around as they "dance" in front of you.)
Moving on, you can opt to dine in the always fancy West Wing.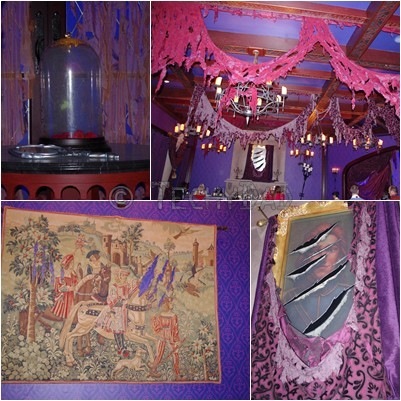 Uh oh. Looks like The Beast has been redecorating again.  This room comes complete with the glass covered enchanted rose (and magic mirror beside it).  As the rose's petals fall, thunder and lightning resounds in the hall and the portrait of the prince turns into The Beast.  (When I visited, the portrait mocked me by only changing when my back was turned.  I'd see it change, but wasn't quick enough to take a photo.  Curse you, enchanted portrait!)
But what of the food?  After all, the most elegant and amazing looking restaurant won't be looked at if the food isn't good.  Thankfully, the food matches the decor.  It is incredible.  I tried the vegetable quiche (with mushrooms, zucchini, pepper, onion, and chive).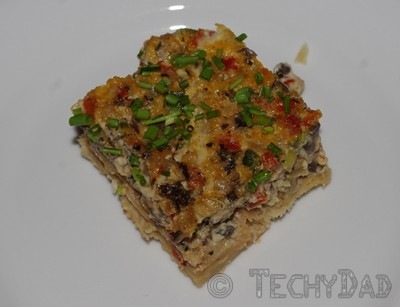 It was incredible.  I also tried the potato leek soup which was also good.  (Somehow, I neglected to take a photo before I gobbled it up.)  One important note:  All of the soups use vegetable broth.  So pretty much any soup in Be Our Guest is vegetarian-friendly!  I can't wait to try the onion soup.  So few onion soups don't contain meat broths.
And then there was dessert.  They had cupcakes out, but I had to try one of these no gluten/sugar added lemon-raspberry cream puffs.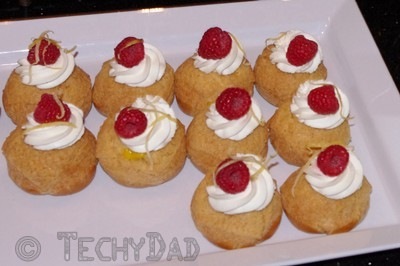 Now, I'm used to cream puffs being light and airy, but this one felt very heavy as I picked it up.  It could probably hurt someone if tossed.  (NOTE: No food fights in Be Our Guest.  Besides, it's a waste of exceptional food.)  Why is it so heavy?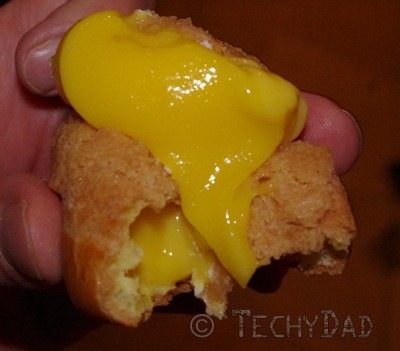 The thing is so filled with custard that I'm surprised they don't burst on the tray!  So tasty!
Of course, what trip to Be Our Guest would be complete without trying The Grey Stuff.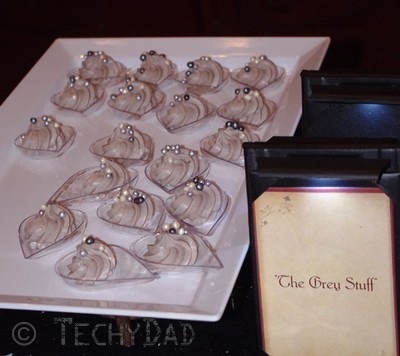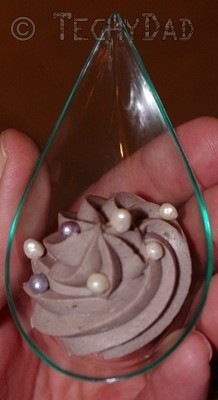 Lumiere insists that it's delicious… and he's right.  I had to have a second of these, it was so good.  Turns out The Grey Stuff is a cookies and cream mousse with crispy "pearls."  I'd take a big bowl of this and be happy.
Sadly, our tour was over all too soon.  I can't wait to go back and be their guest again.  If you are headed to Disney World, be sure to make a reservation for Be Our Guest.  It's well worth the visit.
Disclosure: I was invited to the New Fantasyland media event December 5th through 7th. Disney paid for my travel, our park tickets, room, and a few other items. I was able to take B along as my guest, but we paid for her own travel as well as an extra night in the resort. The opinions expressed above are my own.