The Fourth Goes Boom!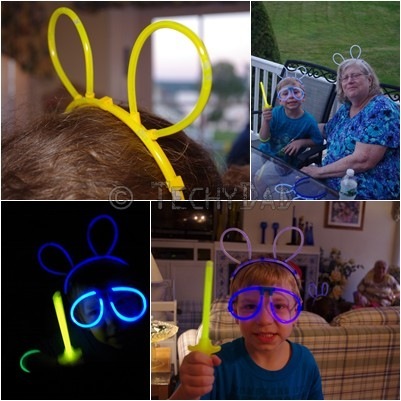 On the Fourth of July, we had a very lovely time at a family's house near Saratoga Lake.  The exciting events, however, happened not on the Fourth, but on the Sixth.  That's when more family was present and we got to watch fireworks.  Yes, the "more family" also equaled "more chaos" from time to time and the fireworks meant that the boys were up WAY too late.  (They fell asleep in the car at around 10pm, though NHL had passed out much earlier and missed the entire fireworks show.)  Still, it all added up to a very fun day.
As we prepared for the fireworks, Aunt S broke out a series of glow sticks, hats, glasses and more that she had purchased at the Christmas Tree Shop.  Apparently, they stock many of these things for only a dollar each.  I'll definitely be keeping an eye out for these in the future.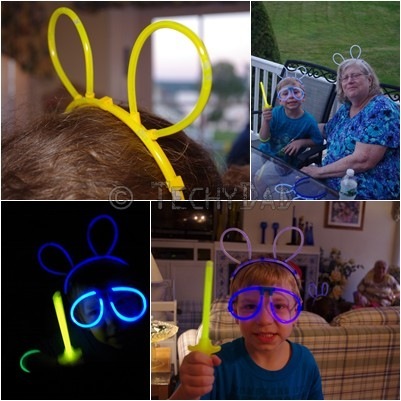 We sat and waited on the porch and eventually it was time for the show.  The blasts came up into the sky and exploded with color.  Meanwhile, mosquitos defied the lit citronella candles and feasted on what they obviously saw as an all-you-can-eat human buffet.
I observed the fireworks the way I observe much of life, through the camera's lens.  (I could launch into a detailed psycho-analytical self-study here about how I deal with Asperger's and social situations by seeking the balance of social isolation and social participation one gets while taking photos nonstop, but that would be off topic.)  During the photos, someone asked me why I was taking so many.  I answered that I had to.  For every twenty that I took, only one was likely to be usable.  When asked for what, I replied "You never know when you might need fireworks photos for a blog post!"
Therefore, to keep myself from being a liar, here's a selection of fireworks photos.  Feel free to add booming noises as you see the photos and/or say "Oooooh!  Aaaah!"  (Bonus points if you Vine or Instagram Video yourself doing this.)