A Halloween Story Starring The Doctor, Harry Potter, Captain America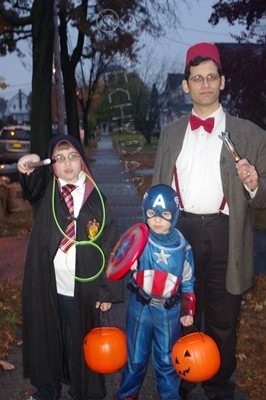 Once upon a time, the Doctor accompanied Harry Potter and Captain America.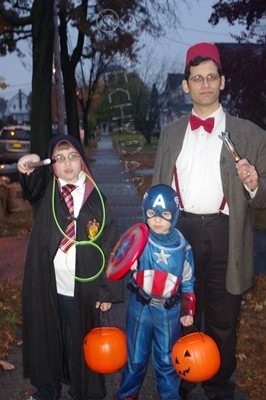 (I wear a costume now.  Costumes are cool.)
They set off on a quest.  Now considering these three, you might think it was a quest to save the world, but actually they were just looking for some candy.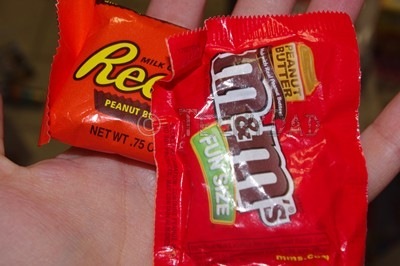 (Peanut butter and chocolate.  Is there a better combination in this world?  I think not.)
It was a bit wet and cold, but they soldiered on and pretty soon they had quite a lot of candy.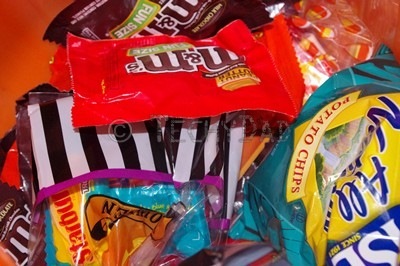 (Sweet, sweet candy!)
Along the way, they braved some scary sights… such as Snoopy stuck into a pumpkin.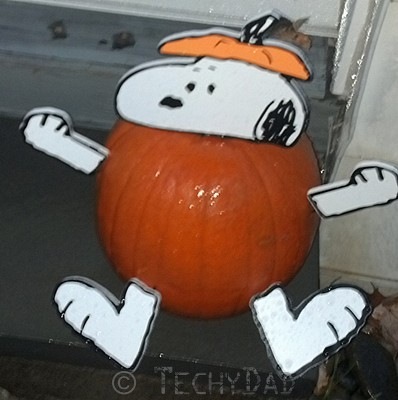 (Don't worry.  He sent Woodstock to get help.)
As they arrived home, they were greeted by a group of haunted pumpkins.
(Grim grinning pumpkins come out to socialize!)
Luckily, these were the ones they had carved earlier so everyone went in, warmed up, ate dinner, and then had a celebratory sugar cookie.
(The candy wasn't eaten yet, but it would be.  It would be!)
Hope everyone had a happy and safe Halloween!