Too Much Snow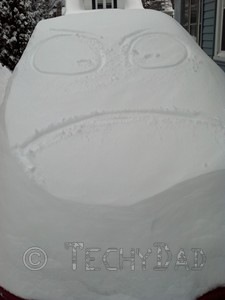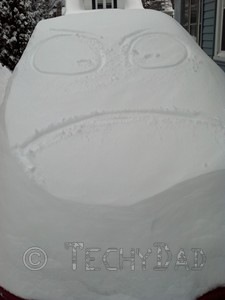 On Friday, I posted about how sick I am of snow.  I really didn't want to make another post so soon about it, but the levels of snow we have just seem to warrant it.  On Friday, the official total seems to be (as near as I can tell), 15 inches of snow.  However, when I measured our snow amounts, I got closer to 20 inches.  This tremendous snow fall meant cancelling plans to see family that we were really looking forward to.  (The roads just weren't safe to travel on and I'd rather survive the trip.)
Friday, we mostly spent a lot of time shoveling and roof raking (to prevent ice dams on our roof).  The snow banks at the end of our driveway are about as tall as I am now.  Getting in and out of our driveway is a very tricky affair with my little sedan.  We haven't even *tried* getting B's car out.  I don't think it's possible the way the snow is.
Of course, the ton of snow meant that the boys had fun playing.  Our next door neighbor's daughter dug a snow tunnel for them and JSL pretended to hibernate.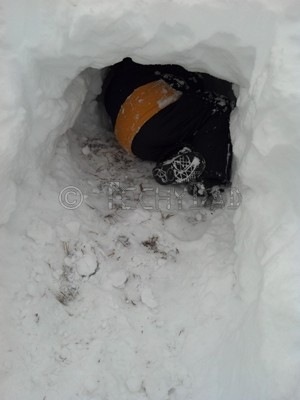 Ah, if only I could go to sleep and wake up when it was spring.
A couple of days later, we decided to take the boys sledding.  The only problem was that we only had one sled.  We looked around, but the stores don't stock sleds in February.  I need new boots too and those are gone as well.  Instead, they have flip-flops, lawn care products, and other spring merchandise out now.  You would think they would retain some stock to sell to people who will still need winter products for the next two months.  Instead, retailers seem to perpetually live three months in the future.
Given that we only had one sled (and that we weren't sure how snow pant would work in my car, we opted to sled at home.  I piled some snow up and made a ramp.  The boys had fun helping me make the ramp and then going down it.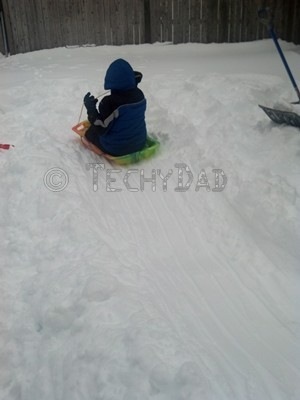 Next, they wanted to build a snow fort.  I grabbed my shovel and began piling snow in a big circle around JSL while NHL helped strengthen the walls.  Eventually, they had a nice, defensible fort.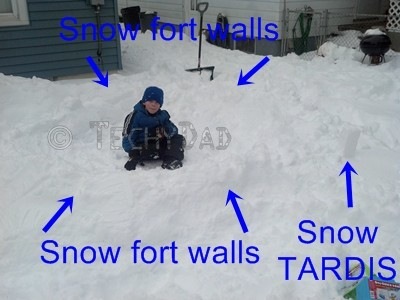 Of course, there's one part about playing outside that seems to be their favorite.  Warming up inside with a nice video game!  (In this case, Lego Marvel Super Heroes – which I plan to review soon.)
The forecast calls for warmer weather soon.  I'm half looking forward to it and half dreading the slushy, flood-prone mess that will result when all this water melts at once.
(By the way, head on over to B's blog for – among other things – a video of what happened when I decided to use the snow as a comfy chair.)