Surgery Day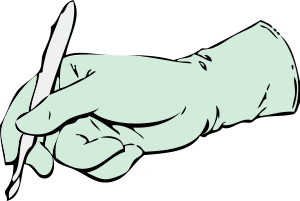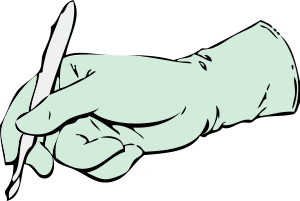 Today's the day that we've been nervous about for some time: Surgery Day.  Today, JSL is going to go under general anesthesia to have his adenoids cut back, his turbinates cut out, and to have his tongue tie taken care of.  JSL is understandably nervous.  So is NHL for whom surgery is an anxiety trigger.
Truth be told, I'd be lying if I didn't say I wasn't nervous either.  I keep saying it is a routine procedure.  I keep telling myself that it will only last an hour at most.  I keep saying that the doctors do this all the time.  I keep remembering that two of my nephews have had this done with no complications.  Still, I can't help but be scared over what will happen.  It's all I can do to hide my nervous feelings from JSL and NHL since I don't want them getting even more nervous.
Have you ever had a child go in for surgery?  If so, how did you handle the nerves?
Note: The "gloved hand with scalpel" image is by johnny_automatic and is available from OpenClipArt.org.