Elementary School Student No More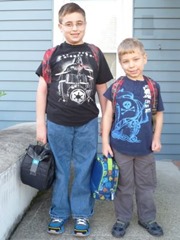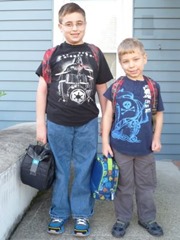 Almost 6 years ago, NHL began a new chapter in his life.  He was going to elementary school for the first time.  Today, he closes that chapter in his life.  Today, NHL is graduating the fifth grade.  Next year, he will begin Middle School.
It seems like only yesterday that I was easily holding baby NHL in one arm.  I still have vivid memories of dropping him off at daycare for the first time.  He'd pull at my suit jacket and scream, not wanting to leave me.  I felt like the World's Worst Dad even when the teachers assured me that he was perfectly happy once I was gone.  Eventually, that stopped but an even worse behavior began: He'd go off to play and wouldn't care about kissing dad goodbye.
NHL got bigger and went to kindergarten.  He learned about math and science and excelled at it.  He learned to read and began tearing through books.  The more he learned the more he loved learning.  I was (and continue to be) so proud of him.
And now he's leaving elementary school.
I can't help but look into the future and see middle school, Bar Mitzvah, high school, college, and more.  I've got to cherish every moment with NHL now because he's growing up so quickly.
To close out this post, I figured I'd make a quick video showing NHL changing throughout the years: