Positively Pixelated Perler Bead Pickle Weasels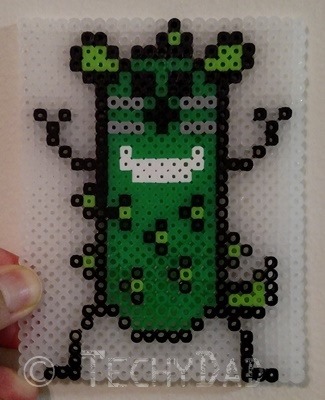 Sometimes, you just feel blue.  You feel like you have been faking it your whole life and someone will figure it out any day now.
I still have no idea what I'm doing.

— JC Little (@AnimatedWoman) December 10, 2014
@TechyDad Me toooooo! The self-doubt is a recurring theme in my life. I'm always battling it.

— JC Little (@AnimatedWoman) December 10, 2014
@TechyDad I know this, I know this… How can I help you? We need a magical mojo talisman or something.

— JC Little (@AnimatedWoman) December 10, 2014
This is called Impostor Syndrome and many people get it.  Sometimes, you just need some extra mojo to ward it off.
JC Little, aka The Animated Woman, has a creation that helps to add mojo whenever you need it: Pickle Weasel.  Our Twitter exchange reminded me of an idea I had once: Make a Pickle Weasel out of Perler Beads.
First, you begin with the body and legs.
Next, you add some ears, arms, and a tail.
At this point, it is time to add some eyes and a nose.
Next. some whiskers and a mouth.
After adding some "pickle spots" and coloring in the ears and tail, Pickle Weasel is really starting to take shape.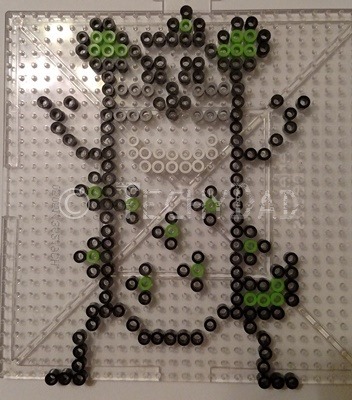 Finally, you color in Pickle Weasel.
Um… Did I say "finally?" Pickle Weasel is done, but if we iron him like this, those spindly arms and legs will fall apart.  So we should add a clear background to keep Pickle Weasel in one piece. (He's not a Pickle Weasel Puzzle, after all!)
A trip to the iron and Pickle Weasel is done and ready to spread mojo wherever he goes.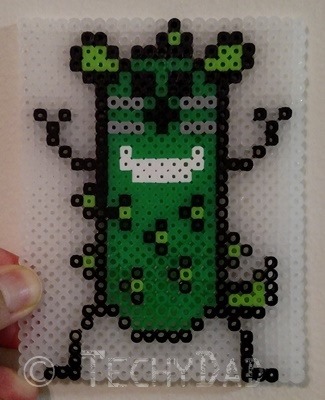 By the way, if you enjoy Pickle Weasel's antics, JC has a new Pickle Weasel book out.  Check it out and see if you can guess what Pickle Weasel is up to now.
NOTE: I've added my © TechyDad watermark to the images above.  These are images taken by me of creations I made, but only the photos are under my copyright.  The "Pickle Weasel" character was created by JC and is thus owned by her.  I made this creation and am sharing photos of it with her permission.