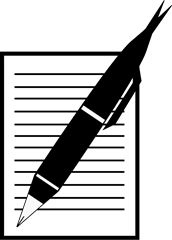 I've been hanging out on Reddit for awhile and stumbled upon a subreddit (a forum dedicated to a single topic for those of you who have ever been on Reddit) called Writing Prompts. Here, people will post simple ideas and other posters will run with it creating amazing short stories. Earlier this week, I posted the following premise:
You receive a mystery book in the mail. Every page begins "Today I will…". You soon find that if you write something on the next blank page in the morning, it will happen by evening. One morning, you wake up to find someone has already written "die" on what was the next blank page.
I'll admit, I didn't get many responses.  Only two people replied and each kept their story around two or three sentences long.  I began to think of a short story to fit my premise and came up with the following short story. I'll admit that I deviated from the description a bit, but I'm really happy with the result. I might have to write more of these short stories and post them.
---
The Journal
Andrew put down his pen next to the bottle of white-out. What had he just been doing again?
"Why did you do that?" Gerald asked.
Andrew stifled a laugh. Gerald's voice always became high-pitched and squeaky when he was upset.
"What do you mean?"
"You wrote in my journal."
Andrew looked at the book lying on the table. Each page began "Today I Will…" and Gerald had a habit of writing in the book first thing every morning. He wasn't sure why Gerald kept this thing anyway. Maybe as a motivational tool? Andrew was always more of a take-life-as-it-happened sort of guy.
"Yeah, sorry about that. It seemed funnier in my head, but looks kind of lame actually written out."
"Now this is going to come true."
"Dude. It's just a journal."
"That's just it. It's not a normal journal. I got that months ago. It just arrived out of nowhere. Whatever I wrote in the journal in the morning happened by sunset that day."
"You're pulling my leg."
"No, I'm serious. Remember three days ago when I won $100 in that Lotto drawing?"
"Yeah."
"Look at the entry for that day."
Andrew turned the page back. Sure enough, that entry read "Today I Will win the lottery."
"Total coincidence," Andrew scoffed.
"What about a week ago when Mary agreed to go on a date with me after months of rejections?"
Andrew turned a week back. Gerald had written "Today I Will get Mary to go out on a date with me."
"You could have written this afterwards," Andrew said.
"You've seen me writing in it every morning," Gerald replied.
"Okay, let's say I believe you. That's just normal day-to-day stuff. Well, maybe the Mary thing was extraordinary but what I wrote just isn't possible."
"That's what worries me. Who knows what will happen now."
"Fine," Andrew sighed. "I'll just white it out and write something else."
Andrew picked up the bottle of white-out and used it to erase the words "Get stuck in an infinite loop." As he picked up his pen, Andrew felt a strange tug on him, as if his entire world were rewinding.
Andrew put down his pen next to the bottle of white-out. What had he just been doing again?