Cooking With TechyDad: Cheesy Potato Pancakes with Sausage
A couple of weeks ago, we were looking through the Sunday circular and came upon an ad for Hungry Jack products. Along with the ad was a recipe for Cheesy Potato Pancakes with Sausage. They sounded intriguing, so we decided to make them. Of course, we keep a Kosher home, so sausage patties were out of the question. Especially when combined with milk. We substituted veggie sausage instead, so this recipe is both kosher and vegetarian:
Ingredients:
1 package Veggie Sausage Patties
1 cup Buttermilk "Just Add Water" Pancake Mix
1 1/2 cups Mashed Potato Flakes
2 1/2 cups milk
2 large eggs
2 tablespoons Vegetable Oil
1/2 cup shredded carrots
1/2 cup shredded sharp Cheddar cheese
First, I prepared my dry ingredients.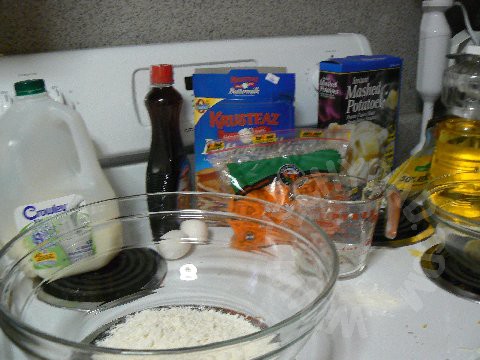 I put the pancake mix into a large bowl.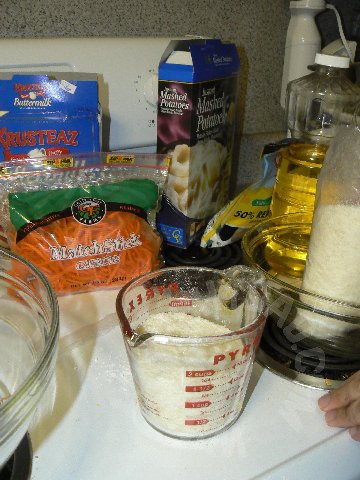 Then added the potato flakes.
Next, I prepared my wet ingredients.
I cracked the eggs into a glass bowl.
Added the milk,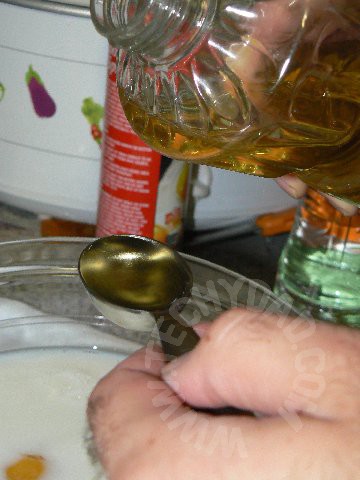 The vegetable oil,
And whisked it all together.
After that, I poured the wet ingredients into the dry ones.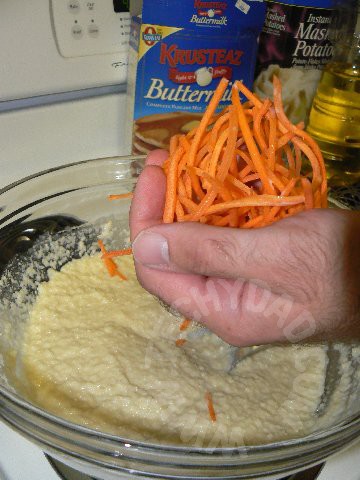 In went the carrots.
Then I took the veggie sausages (cooked in the microwave as per package directions)
And crumbled them.
I mixed it all together.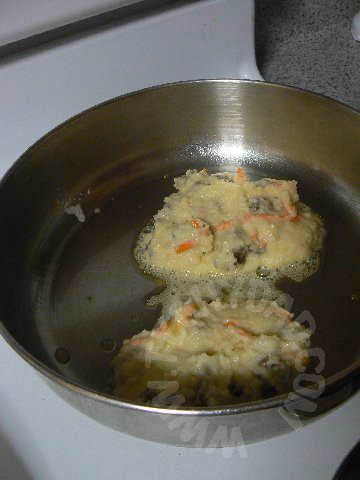 Into the oil it went.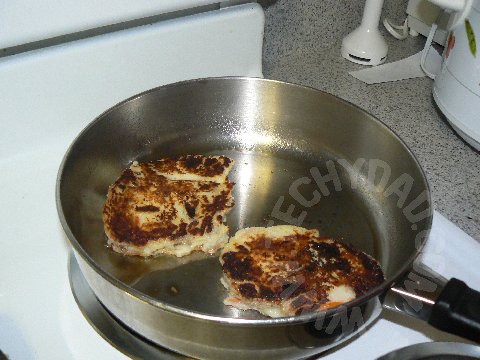 Turn it over.
Some cheddar to put on top.
Finished product with melted cheese (via microwave) and syrup.
All in all, this was a pretty good dish. I did omit a few ingredients to either try to make it more palatable for kids (e.g. onions) or to make it easier to keep kosher (Parmesan cheese – hideously expensive for the kosher stuff). Next time, I'll put the onions in, put the syrup in the mix, and maybe even spring for kosher Parmesan cheese.