Freeware Review: Shape Collage
B likes putting photos together into collages for her blog. They help save space when she wants to display a series of related photos. However, her usual tools for making collages weren't working out well so I went hunting for a new one. Something that can arrange a series of photos in a layout and allow her to decide how (or if) the photos are cropped. Unfortunately, I didn't find such a tool. (If you know of one like this, tell me about it in the comments section below.)
What I did find was Shape Collage 2.5. Shape Collage will take a set of photos that you specify and toss them together into a shaped photo collage. It comes with 3 preset shapes: Rectangle, Heart, and Circle. You can also enter some text to use as the shape. The real strength of the program, however, is the "More" category. Here, you get to draw your own shape or load one from a file. The photos will take on the shape of whatever you draw.
The first use I thought of for it was making a poster of our nearly 3,000 Disney World photos. I loaded the directory with the photos and decided on a shape. After a quick experiment drawing a "Mickey Ears" shape (turned out well enough, but my drawing skills are lacking), I decided to take it to the next level. First, I found a PNG image of Mickey online. (Shape collage uses PNG and I figured this would be the best format to modify into a shape.)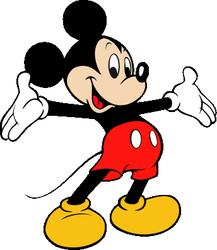 I tossed this into a photo editor (Paint.NET), gave it a white background (instead of transparent) and turned Mickey completely black so that the image turned into this shape: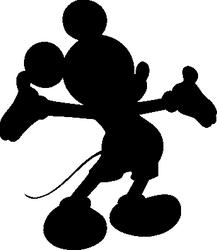 I loaded this shape into Shape Collage, changed a few settings around (e.g. I told it to only use 1,000 photos) and clicked Preview. After a short processing screen, I was treated to a sequence of photos appearing and rearranging. They quickly formed the Mickey Mouse shape. Once this was done, I clicked Create and got my image: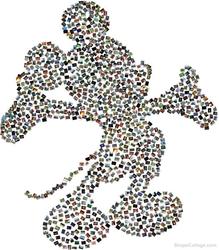 Trust me, the original photo is huge. Almost 100 megapixels huge! That would be big enough to make into a poster (which isn't a bad idea for displaying your vacation photos). Here's a crop from the original: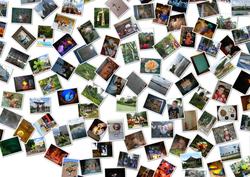 The only caveat is that it puts a "ShapeCollage.com" watermark on the resulting image. You can pay $25 for the Pro version which doesn't add watermarks and adds a few other features like exporting the image into Photoshop/GIMP formats (complete with each photo on its own layer).
Even if you stick with the freeware version, I'd highly recommend this piece of software. I know I'll be having fun putting together some shaped photo collages in the near future!