Cooking with TechyDad: Slow Cooker Bean Soup
This soup has become a favorite recipe of ours. Before trying this out, we shied away from dry beans in favor of canned. Now, however, we love buying dried bean packages to cook into our Multi-Bean Soup.
First, we assemble our ingredients.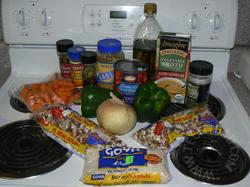 (NOTE: Celery isn't in the photo because I had forgotten to purchase it before "ingredient photo time". Also, when I did go buy it to add to the soup, I found Imagine's No-Chicken Chicken Broth which I used for this recipe.)
Actually, check that. Don't assemble your ingredients. For this recipe, we need to start a day early and soak our beans. So get a large pot and put your beans in.
Next, cover them with plenty of water. Remember, the beans will absorb water, so make sure they're covered as much as possible.
Now cover the pot and get a good night's sleep. The next moring, it will be time to *really* assemble your ingredients. First, chop up some green peppers, carrots, and celery and add them to the slow cooker.
Next, toss in a large can of diced tomatoes, barley, bay leaves, broth, parsley, thyme, and pepper.
Now chop up a large onion and sautee it with some garlic.
While that sautees, drain some of the excess water from the beans and toss those into the slow cooker.
Add in the onion/garlic mixture and top it off with a little water.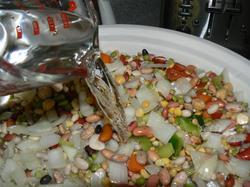 As you can see, the soup will be nearly to the top of the slow cooker. That's perfectly fine since this will be cooking for awhile. Ten hours on low, to be exact. Ten hours later, you'll be greeted by the sight of delicious Multi-Bean Soup. Add salt to each bowl to taste.
Oh, remember to remove those bay leaves when you find them. As Alton Brown might say, "Those are definitely *NOT* good eats!"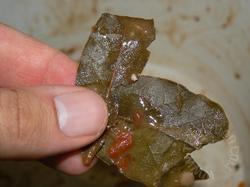 The Multi-Bean Soup is good eats, however. And you'll be eating quite a bit of it too. The recipe makes about 12 bowls of the soup! So you're guaranteed to have plenty of leftovers.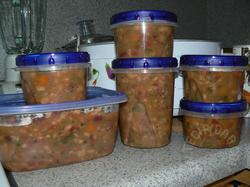 Don't worry, though, because the bean soup tastes even better reheated than it does the first night! And now that I've got you all hungry for Multi-Bean Soup, here's the recipe:
TechyDad's Multi-Bean Soup
Ingredients:
1 large onion, chopped

2 garlic cloves, minced

1 Tbsp. olive oil

2 packages of 15 bean soup mix (about 40 ounces of dried beans; discard any seasoning packets)

4 cups broth (chicken, beef, or vegetable – I prefer Imagine's No-Chicken Chicken Broth)

2 large carrots, chunked

2 green peppers, chunked

2 celery ribs, chunked

1/2 cup quick cooking barley

2 tbsp dried parsley

2 bay leaves

1/2 tsp dried thyme

1/4 tsp black pepper

28 oz can diced tomatoes
Directions
Soak beans overnight according to package directions.

Sautee onion and garlic in oil until just wilted.

Combine all ingredients in slow cooker.

Cook on low for 8-10 hours.

Discard bay leaves before serving.