Cooking With TechyDad: Sneaky BonBons
Yesterday, I introduced Sneaky Weeky and showed you how to make two purees. Today, we're going to put one of them to good use. First, let's gather our ingredients.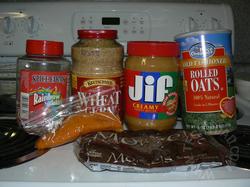 That's peanut butter, the orange puree, rolled oats (not instant), wheat germ, chocolate chips and sprinkles. Quite an ecclectic mix there, isn't it. First, let's put the puree and peanut butter into a bowl and mix them together.
Next, we'll add in the wheat germ, rolled oats and chocolate chips and mix it all together.
Next, put some sprinkles on a plate. Scoop up teaspoon sized portions, roll them into balls and roll them in the sprinkles. You could also dust them with powdered sugar or cinnamon and sugar instead of using sprinkles. After rolling, wrap them in plastic wrap and stick them in the freezer.
Now snacking is as simple as taking them out and letting them thaw. You could pack a couple of these for a child's lunch and they should be fine by snacktime. The kids will think they're delicious because of the chocolate chips and sprinkles. They won't realize that they're getting fiber from the wheat germ or vitamins from the orange puree. In fact, they won't even know that the wheat germ or puree are there.