Aloha Friday: Presents Unwrapped
By now, everyone who celebrates Chanukah or Christmas should have opened their gifts. My Aloha Friday question today is a simple one: What did you get?
As a bonus, here's a little Holiday/New Year's Greeting from the TechyDad/TheAngelForever family to yours: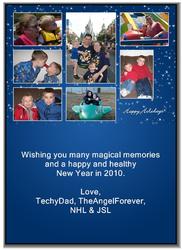 ---
Thanks to Kailani at An Island Life for starting this fun for Friday. Please be sure to head over to her blog to say hello and sign the MckLinky there if you are participating.
Aloha #19