Cooking With TechyDad: Sweet Potato Fries and Roasted Veggies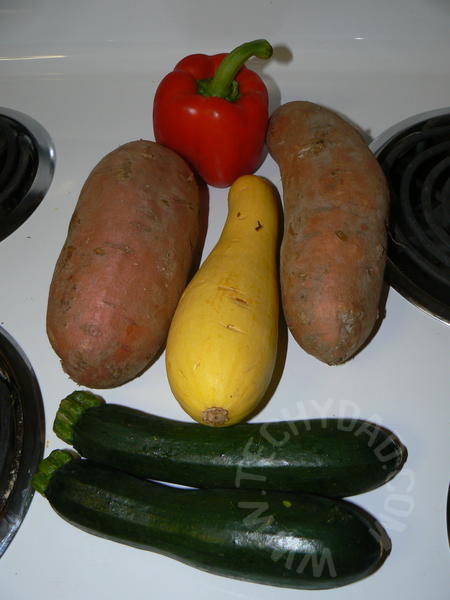 One of the simple things I love doing is roasting vegetetables. Roasting them brings out all sorts of wonderful flavors and is so easy to do. The basic rundown is: Slice veggies, toss in a little extra virgin olive oil, toss in salt and pepper, place on a cookie sheet in the oven until soft and delicious. I made some of these to go with dinner yesterday and figured I'd take some photos to share the details of my procedures.
First of all, here are the veggies that I had on hand.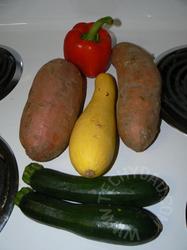 For those of you keeping score, that's one yellow squash, two zucchini, two sweet potatoes and one red pepper. Sometimes I'll use eggplant or portobello mushrooms. Maybe I'll post those another day. For now, let's slice the zucchini and squash into about half inch slices. It doesn't need to be exact, of course.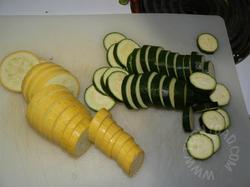 Next, lay them out on a greased cookie sheet.
Spray the top with cooking spray and add some salt, pepper and garlic powder.
Now pop it in the oven. Bake at around 425 for 8 minutes on each side. You can also finish it off with a few minutes under the broiler.
Now on to the red pepper. Slice it, arrange on a cookie sheet, and prepare exactly like the zucchini/squash. Broiling here is definitely recommended.
This was so good that even NHL loved it. (And he usually treats peppers like some kind of gastrointestinal abomination.) As good as these were, though. I'm saving the best for last. Sweet Potato Fries!
I've prepared diced, roasted sweet potatoes for quite awhile, but one day I got inspired. I had watched Jamie Oliver's Food Revolution where they said that french fries were counting as a multiple serving vegetable in school lunches. Yes, those greasy, reheated sticks of something that used to be potatoes count towards vegetables.
I realized that I could make a healthier fry. So instead of dicing the sweet potatoes, I peeled them and chopped them into sticks.
Next, I arranged them on a cookie sheet and tossed them with a little extra-virgin olive oil. Don't use too much. A little is all you need. Sprinkle on some salt, pepper and garlic powder.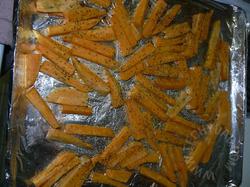 Cook those at 425 for 10 minutes. Then flip them and cook for another 10 minutes. Finish it off with a couple of minutes under the broiler.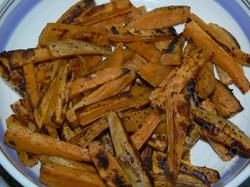 Don't they look delicious? Much healthier than greasy fries also. Now let's put it all together.
Look at all the pretty colors! *YUM!*