Geeks-In-Training Meet Free Comic Book Day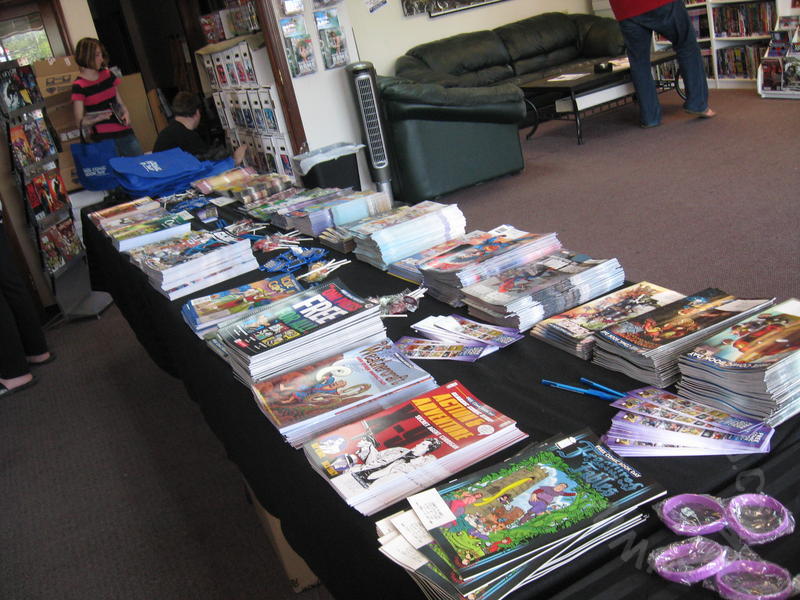 As a father, I have many responsibilities. I go to work Monday through Friday to pay our bills. I take the kids on excursions to let B get some quiet time. I cook dinners. I even change pull-ups and wipe rear ends. My most enjoyable fatherly responsibility, however, is training them in the geeky arts.
NHL already likes Star Wars. Both he and JSL love Looney Tunes. JSL will even, when prompted with "Rabbit Season" say "Duck Season! Fire! PSSSH!" (The sound of him imitating Elmer Fudd's gun.) They also both love computers. NHL will beg to be allowed to learn more about computers and JSL has come to expect being able to see his grandparents via Skype whenever he wants.
On the superhero front, NHL watches Batman The Brave and the Bold with me and wants to know everything about all the heroes and villians. He gets especially excited when the heroes begin beating up the villians. (Perhaps too excited, but that's a topic for another blog post.) He's also watched Super Hero Squad, Spectacular Spiderman and X-Men: Evolution with me to get him into Marvel's heroes and villians.
So when I heard that Saturday was going to be Free Comic Day, there was no way I could pass it up. We went to Zombie Planet in Albany, NY. Beyond the great name, they're also a great comic book store. We wandered around it looking at everything. We saw lots of items that my comic book store growing up didn't have (mainly dealing with role playing games). I was even impressed that they had a Nuclear War card set. (That's a card game where you toss nukes at each other trying to be the only one with a population left; often there will be no winner. But I digress.)
The one thing we couldn't find, however, was the free comics. That was easily solved, however, by asking the friendly store staffers who directed us to the secret passageway… I mean, the stairs that we hadn't noticed. Upstairs, the boys loved seeing a table of comic book after comic book sitting in front of them.
All of the comic books on the table were free as were a few other items sitting on the table, so I grabbed one of everything. However, B, thinking ahead to the inevitable conflicts concerning who is going to read what comic book, grabbed a second one of the Toy Story, Penguins/Shrek and Fraggle Rock ones. We probably should have gotten second Iron Man ones as well given that both boys love Iron Man, but I figured that there were 2 Iron Man comics (one teaming with Nova and another teaming with Thor) so they could alternate. Plus, I didn't want to be greedy. As it was, we were leaving with over 40 comics for $0.
Well, the total didn't exactly come out to $0. As we were asking where the comic books were, we had noticed that they make Super Hero Squad cards. We promised NHL a set so, when we came back downstairs with our haul, we picked up a pack. I might let NHL start a collection with these. I began a baseball card collection when I was about his age and thoroughly enjoyed it. Obviously, there would be spending limits in place and perhaps he would need to do things to earn his collection money, but this might be a nice non-toy, non-video-game, completely geeky collection for him to have.
The boys had a great time seeing everything in the store, seeing all of the comic books, and reading their comics both in the car and on the way home. (Though how much was reading and how much was looking at the pictures, I don't know.) I even read NHL the Iron Man/Nova comic and he enjoyed it. I'm happy to report that the geek-i-fying of my boys is right on track.