#DisneySMMoms 2010 – Bumps and Epcot and Magic Kingdom Oh My! (Day 5, Part 1)
We began Day 5, February 11th, getting the boys and us ready. This was to be a big day. B was headed to the Disney Social Media Moms conference. I, in turn, was going to take the boys with me to Epcot. We weren't going to be alone, though. We were going to meet up with Tom and TJ while Christina from CutestKidEver went to DisneySMMoms with B.
First, we needed to get breakfast. So we headed to the Polynesian Great Ceremonial House (their main hall) and began surveying our options. After Tom and TJ arrived, I had something selected and we got ready to go. JSL climbed into the stroller and sat down. I began to back up and he decided that this was a good time to get out. He turned around in the seat and, before I could react, slid out of the stroller and slammed his head on the marble floor.
We got some ice for his head, considered going to the ER, but I figured that (despite the outward appearance), it wasn't that bad. After all, he wasn't losing consciousness or having any behavior changes. Instead, we took the monorail to Epcot and tried to find the First Aid station to get a better ice pack.
On the way into Epcot, we ran into Rafiki and Mr. Penguin (one of the Penguins from Mary Poppins). Mr. Penguin signed NHL's autograph book (#26).
At this point, I spoke with Tom. I didn't want to hold him and TJ up as we searched for the First Aid station. So he and TJ went off to enjoy the park while NHL, JSL and I wandered in search of First Aid. After some wrong turns and dead ends (set up thanks to the Robert Irvine event that was coming up later that day), we found the station and got JSL an ice pack.
While walking back through the park, I noticed that JSL wasn't keeping his ice pack on. We walked into a store to do some shopping and I promised JSL a toy if he would keep the pack on his forehead. I knew just what to offer since he had been eyeing something a few days prior. I got him a Crush the Turtle and that helped a little.
After this, we made our way to the Character Spot. Remember how I said that TJ had been upset over not being able to say hi to Mickey Mouse? Well, we had found the Character Spot during our last trip to Disney World. Here you get to meet Mickey, Minnie, Donald, Goofy and Pluto. Not only that, but you wait indoors watching old Disney cartoons during your wait.
Since we had separated from Tom and TJ, and since we hadn't eaten breakfast yet, I parked the stroller off to the side and I fed the boys. I also ate something myself. JSL ate somewhat well and was acting much more normal even though the bump still looked nasty. Soon Tom and TJ arrived, I parked the stroller outside and we got on line. During our wait, we got a message from the ladies that they were out of the conference for the rest of the day and were coming to meet us. They arrived soon afterwards and we all approached Mickey and Pals. TJ, NHL and even JSL were happy to see (and get their photos taken with) some of their favorite characters.
After a quick lunch at the Electric Umbrella, we decided to head to the Magic Kingdom. On our way out, we saw Daisy and Stitch so we took some photos with them.
Post-Photo Op, we boarded the monorail and were soon at the Magic Kingdom. As we entered the park, we saw Pinocchio. We already had had Daisy and Stitch, but Pinocchio was new so we got his autograph (#27).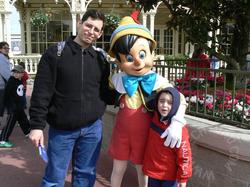 After this, we walked around the park for a bit before making our way to Dumbo for a flight with everyone's favorite big-eared elephant.
Post-Dumbo, the kids enjoyed some time in Pooh's Playful Spot. The kids had so much fun here that it's sad to think that this area is no longer in existence.
We left the playful spot, JSL extremely reluctantly, to go on Small World again. Then it was on to Pirates of the Caribbean, after which TJ was happily sailing the SS Tom looking for islands with treasure.
All too soon, it was time to leave the Magic Kingdom. We needed to get back to the hotel room to prepare for that evening's festivities.