Geek Dad Book Review and Giveaway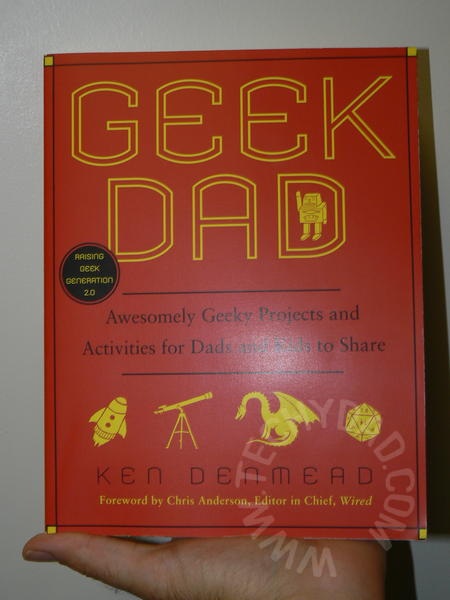 Thanks to winning a contest over at Dad of Divas, I was able to check out the new book Geek Dad: Awesomely Geeky Projects and Activities for Dads and Kids to Share by Ken Denmead. I was instantly overwhelmed, but in a very good way.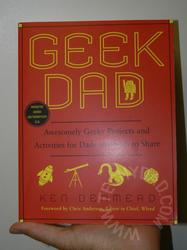 The book recognizes that not every dad is your stereotypical sports-loving, beer-drinking man. Some of us like Star Wars, role playing games, and other things of a geeky inclination. Since dads love sharing their favorite activities with their kids, the question becomes: How do we share our love of science, technology and other geeky subjects with our kids? Sharing some items might be easy. You can sit down with your kid and have a Star Wars marathon, but others might not be as easy to share. Chances are, a 7 year old won't quite understand or have the patience for an adult-level role playing game.
Geek Dad is full of interesting ways of sharing these geeky interests in kid-friendly ways. For example, what do 4 Lego minifigs, 2 12-sided dice, one 6 sided dice, a bunch of index cards and some posterboard have in common?
Answer: The beginnings of a math-based, role playing board game inspired by the Create The Ultimate Board Game chapter. More on this as we continue to work on the game. Consider those photos a sneak peek.
Getting back to the book, it was very well written and each chapter stands on its own (thus letting you skip ahead to a project or without needing to read three other chapters prior). So if the book is well written, why was I overwhelmed? Because there were simply too many good ideas in there. There are at least four or five projects that I want to do with NHL in the short to mid term and a few that I'll save until he's older. There's even one project that has inspired me to make plans to improve upon it (The "Magic" Swing). I had to start shelving plans lest I try racing off in a dozen directions at once. So we're focused on the board game for now and will explore those other paths later.
You can buy Geek Dad for $9.76 on Amazon.com. It even qualifies for free shipping if you reach $25, so load that order up with some geeky supplies while you're at it. While you wait for your book to arrive, be sure to stop by Wired's GeekDad blog and GeekDadBook.com.
Win It
I'm happy to announce that I've been given the opportunity to give away a copy of Geek Dad: Awesomely Geeky Projects and Activities for Dads and Kids to Share by Ken Denmead.
Rules for Giveaway:
MAIN RULE – Answer the following question: What childhood interest of yours would you like to share with your child? The interest need not be geeky, but, of course, those are the best interests to share. 😉
1 Bonus Entry – Follow me on Twitter @TechyDad. Post a comment here with your Twitter username.
1 Bonus Entry Per Day – Tweet about the giveaway. Be sure to include @TechyDad in the Tweet. Please leave a direct link to your Tweet in a separate comment for each daily entry. Example Tweet (feel free to use): Chance to win Geek Dad: Awesomely Geeky Projects and Activities for Dads and Kids to Share book from @TechyDad. http://www.techydad.com/?p=3514
1 Bonus Entry Per Comment (limit of 3) – Post a comment one of my other posts from May or June. Be sure to leave a comment here telling me which post you commented on.
3 Bonus Entries – Write a post on your blog linking to my blog about the Geek Dad giveaway. Be sure to leave 3 comments about this to get credit for all of your extra entries
To enter, please follow the rules above within the comment section. Contest starts today June 20th and ends at Noon EST on July 5th. You don't need to be a blogger to enter, but I do need you to leave a valid e-mail address in your comment so I can contact you for your mailing address once the giveaway is over. I'll select the winner using random.org and will contact you via e-mail. Once the e-mail is sent, you will have 48 hours to claim the prize. If there is no response, another winner will be selected. Open to U.S. residents only.
Disclaimer: As stated above, I received a copy of Geek Dad via a giveaway on Dad of Divas. I haven't received any compensation for this review/giveaway. The opinions expressed here are my own.