ABC Neckties Review and Giveaway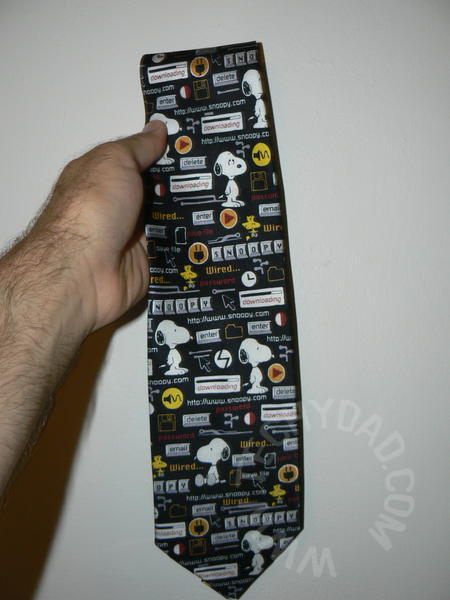 I have a confession to make: Growing up, I hated neckties. I suppose this was understandable. At the time, I only wore neckties at formal (read: "boring" in kid-speak) affairs. The neckties themselves were borrowed from my father and thus didn't represent anything approaching my taste. I was expected to slap on the tie and then keep it on until the event was over.
When I got a job that required a dress shirt and tie, I found that I actually liked ties. I especially liked theme or offbeat ties such as the Jerry Garcia line, wildlife ties or ones depicting famous cartoon characters. I now have a very nice collection of ties from the very dressy to the very wacky. Still, when I was given the opportunity to review ABC Neckties, I jumped at the chance.
I was impressed with their selection. They have a little bit of everything so you're pretty much guaranteed to find something you like whether it is a tie featuring Wile E Coyote or just a plain silk tie.
I quickly homed in on which tie I wanted to try. It really wasn't hard, I'm a fan of comic strips and work as a webmaster. So this tie quickly caught my eye:
It arrived pretty quickly and I didn't have to wait long before I wore it to work. I was impressed with both the speed of the delivery and the quality of the tie. I'd definitely order from them again (and, in fact, am deciding which tie to get next).
But wait, there's more! Thanks to Family Review Network, Affordable Style, and ABC Neckties one lucky winner will receive a $25 gift certificate to ABC Neckties!
Rules for Giveaway:
MAIN RULE – Go to ABC Neckties and name one tie that you'd like to wear or, for the ladies, that you'd like the man in your life to wear. (NOTE: You won't be held to this tie if you win.)
1 Bonus Entry – Follow ABC Neckties on Twitter @ABCNeckTies. Post a comment here with your Twitter username.
1 Bonus Entry Per Day – Tweet about the giveaway. Be sure to include @TechyDad and @ABCNeckties in the Tweet. Please leave a direct link to your Tweet in a separate comment for each daily entry. Example Tweet (feel free to use): Chance to win a $25 gift certificate to @ABCNeckTies from @TechyDad. http://www.techydad.com/2010/07/abc-neckties-review-and-giveaway/
1 Bonus Entry Per Comment (limit of 3) – Post a comment one of my other posts from June or July. Be sure to leave a comment here telling me which post you commented on.
3 Bonus Entries – Write a post on your blog about and linking to this post. Be sure to leave 3 comments about this to get credit for all of your extra entries.
To enter, please follow the rules above within the comment section. Contest starts today, July 27th and ends at Noon EST on August 10th. You don't need to be a blogger to enter, but I do need you to leave a valid e-mail address in your comment so I can contact you for your mailing address once the giveaway is over. I'll select the winner using random.org and will contact you via e-mail. Once the e-mail is sent, you will have 48 hours to claim the prize. If there is no response, another winner will be selected. Open to residents of the US or Canada.
Disclaimer: I did this review as part of a campaign on Family Review Network for Affordable Style. I received a complimentary necktie from ABC Neckties to facilitate my review. The opinions expressed here are my own and no other compensation was received..