Aloha Friday: Beach Memories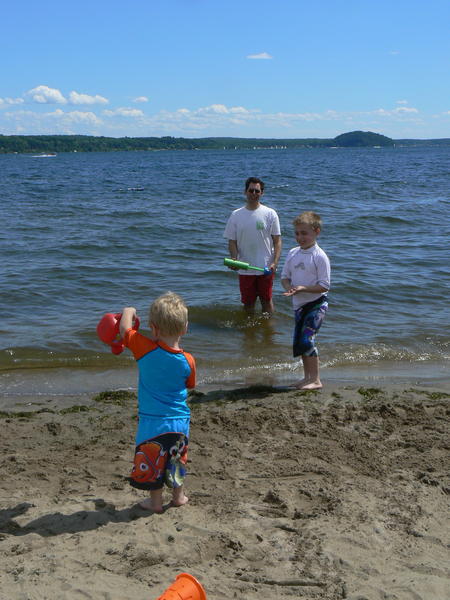 On Sunday, we went to the beach after some time boating on the lake. Now, B has made it clear that she's not a beach girl, but I love the beach. I grew up on Long Island, so beaches were very available. In fact, there were two beaches that we would regularly go to. I don't know if they were their real names, but we always called them Long Beach and Short Beach.
Now, these beaches weren't perfect by any stretch of the imagination. Long Beach had sharp rocks under the water. Each year, the rocks seemed to get further and further out so you had to carefully walk out until you could barely stand before you could enjoy the sand under your feet while in the water.
Short Beach didn't have rocks. Instead, it had a low tide. And I mean low tide. One time, I remember we walked into the water during low tide and decided to just keep walking. I don't remember how far we got, but the shore was distant and we started nearing where boats should have been… and the water still wasn't up to our knees!
Still, I have happy memories of the beach as well. Playing in the sand, splashing in the water, finding sea life (horseshoe crabs, minnows, etc) in the water, shell collecting, getting ice cream on the hot days and trying to eat it before it melted, etc. I loved the beach and am glad to say that my kids made some great beach memories on Sunday.
My Aloha Friday question for today is: Did you go to beaches when you were younger? Do you have any fond beach memories?
---
Thanks to Kailani at An Island Life for starting this fun for Friday. Please be sure to head over to her blog to say hello and sign the MckLinky there if you are participating.
Aloha #48