Cooking With TechyDad: The PB Files, Part 4: Easy Peanut Butter Smores
As you might have guessed, I like peanut butter. I also like chocolate. Especially, Dark Chocolate. So how couldn't I love this?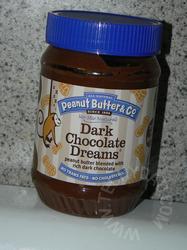 DARK CHOCOLATE PEANUT BUTTER!!!!
Excuse me while I clean up this drool puddle. Ok, much better. I keep thinking I should find a proper recipe to make this into but then I think that'd be a waste of Dark Chocolate Peanut Butter. (Cleans up more drool.) Especially when there's a quick and easy recipe that I love making this into.
First, let's gather our ingredients. All three of them.
For the record, that's dark chocolate peanut butter, marshmallow fluff and graham crackers. Now place two halves of a graham cracker down
Open up your dark chocolate peanut butter.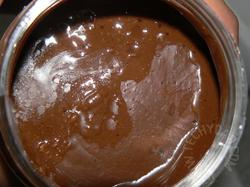 (Oh dear, more drool to clean up.)
Now spread some dark chocolate peanut butter on one half. Spread some marshmallow fluff on the other half.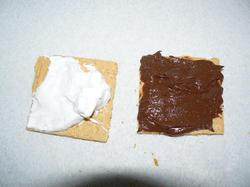 Next, comes a highly technical procedure which I call "squishing them together."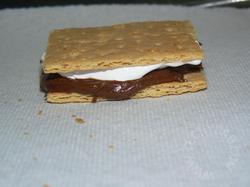 Doesn't that look good? Don't you want to try a bite?
Sorry, this one's mine. Get your own!!! (Insert Cookie Monster sounds as I devour my creation.)
Disclaimer: Peanut Butter & Co sent me the jars of peanut butter to try. The opinions about the peanut butter and the dishes I make with them are my own, though, and have in no way been influenced by Peanut Butter & Co.