Cooking With TechyDad: The PB Files, Part 5: Wonderful White Chocolate Peanut Butter Cookies
I'll admit right off the bat that I'm not a big white chocolate fan. I'm more of a dark chocolate person, myself. Still, how can you resist a peanut butter called White Chocolate Wonderful?
I found a recipe online for Flourless White Chocolate Peanut Butter cookies and then went to work gathering my ingredients.
That's brown sugar, white chocolate peanut butter, baking soda, vanilla, white chocolate peanut butter chips and egg whites. First, we combine the peanut butter, brown sugar, baking soda and vanilla.
Now, in a second bowl, lightly beat the egg whites. (Bad, egg whites!)
Pour the beaten egg whites into the first bowl and mix it all together.
Fold in the white chocolate chips.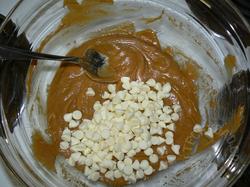 Now, scoop onto a baking sheet and cook at 350 for 10 to 12 minutes.
When they come out, do NOT try to move them. The cookies will be way too soft. Instead, let them cool for about 5 minutes on the baking sheet before moving them to a cooling rack. Or do like I did and let them cool for 5 minutes on the tray and then remove the aluminum foil – cookies and all – to let them cool for another 5 minutes. You'll be rewarded with delicious white chocolate peanut butter cookies.
The verdict? Well, these were good, but to be honest, I have another peanut butter cookie recipe that I like more. I guess I like that one more due to the greater peanut butter taste. Still, this white chocolate peanut butter's good stuff!
Disclaimer: Peanut Butter & Co sent me the jars of peanut butter to try. The opinions about the peanut butter and the dishes I make with them are my own, though, and have in no way been influenced by Peanut Butter & Co.