Mastermind Animal Towers Review and Giveaway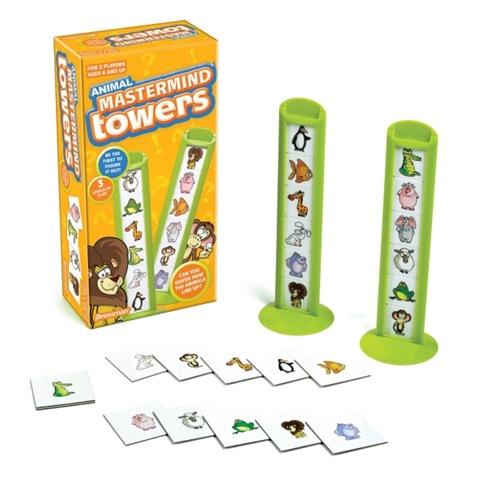 I love playing board games with my kids.  Unfortunately, too many games rely solely on luck to win.  Did the spinner land on 3?  Did the die roll go your way?  Did the card you just drew match what you needed?  Thankfully, there are games out there that depend on brainpower instead of luck.  Mastermind Animal Towers is one of these games.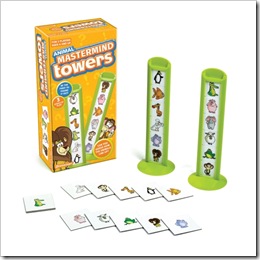 In the "grown-up" version of Mastermind, one person is the code maker and one person is the code breaker.  The code maker chooses 4 pegs out of 6 possible colors and arranges them in a spot hidden from the code breaker.  The code breaker then tries to guess the code in 10 attempts or less given the minimal information of how many pegs were the correct color and how many were in the correct spot.  (Specific information like "Green is in the right spot" isn't given.)  Obviously, this takes a keen mind to figure out.  Simply tossing pegs onto the board and hoping luck will be with you isn't a winning strategy here.
The same is true for Mastermind Animal Towers.  Of course, the game play is simplified for kids.  In this version, both players are code makers and code breakers.  You each get a series of tiles with animals on them and a "tower" to put the animals in.  When the animals are in the tower, the opposing player can't see them.  Both players also get a second set of tiles representing their opponent's animals.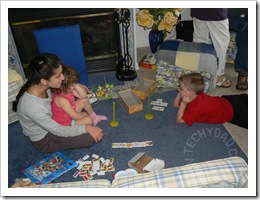 Play involves trying to figure out just how your opponent has stacked his or her animals.  You ask "above or below" questions such as "Is the Lion above the Giraffe?"  As your opponent answers your questions, your estimation of their tower becomes more and more accurate until you guess it correctly.  Of course, your opponent is also asking questions and trying to guess how your tower is arranged and will try to win by guessing correctly before you.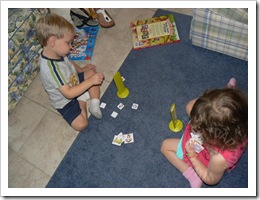 During a family get together, NHL played this game against me and some other family members.  He immediately got the concept and went right to work trying to guess the arrangements.  While he wasn't always successful (my training in computer science led me to use an effective sorting technique for my guesses), he did have a lot of fun.  Even JSL and his cousin S, both of whom were too young to really understand how to play the game, had fun pretending to play or helping out (e.g. helping to choose my initial tower arrangement).  This is definitely a game that I would recommend to help build your child's problem solving skills.
Giveaway:
Thanks to Pressman Toys, one lucky winner will receive Mastermind Animal Towers. To enter, simply leave a comment below answering this question: What board games do you like playing with your children or did you play growing up?
You can also earn bonus entries by doing any (or all) of the following items. Just be sure to leave a separate comment for each item that you complete.  (Don't just leave one comment listing everything you did.)
Follow @TechyDad on Twitter. (1 bonus entry)
Follow @MASTERMINDgame on Twitter. (1 bonus entry)
Tweet about the giveaway on Twitter. Be sure to include @TechyDad, @MASTERMINDgame and a link to this post in the Tweet. (1 bonus entry per day) For example: Play more board games with your kids! Win Mastermind Animal Towers from @TechyDad and @MASTERMINDgame. http://bit.ly/bPSskL #Giveaway
Subscribe to my RSS feed or let me know if you already are. (1 bonus entry)
Leave a comment on any of my non-giveaway posts from October/November. Leave a comment here letting me know which post you commented on. (1 bonus entry per comment, maximum 3 entries)
Write a post on your blog linking to this giveaway. Leave 3 comments about this to get credit for all of your extra entries. (3 bonus entries)
To enter, please follow the rules above within the comment section. Contest starts today, November 4th and ends at Noon EST on November 18th, 2010. You do not have to be a blogger to enter, but must leave a valid e-mail address for me to contact you for mailing address once the giveaway is over. I will select the winner using random.org and contact you via e-mail. You will have 48 hours to claim the prize. If there is no response, another winner will be selected. Open to U.S. only.
Disclosure: I was given this game by Pressman Toy for free to review and I get to keep the game at the end of my review period. No other compensation was given. The opinions expressed above are my own. Pressman Toy is also providing the giveaway item to my readers.