Review: Barbara's Bakery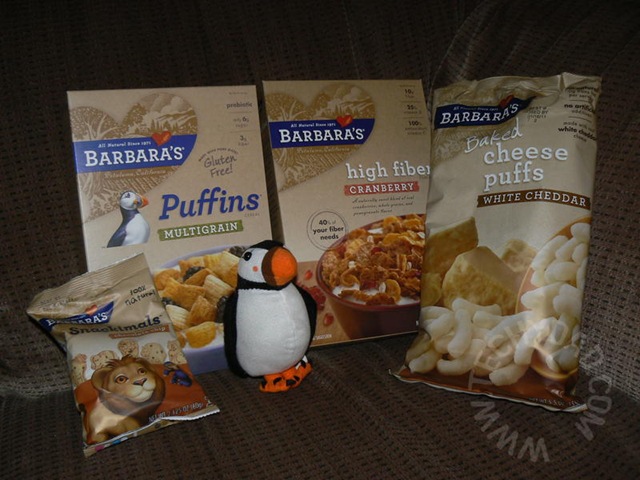 It's no secret that I love to eat.  However, while I like the occasional sweet treat, I like to keep my foods as healthy as possible.  So when I heard that Barbara's Bakery was looking for people to review some of their foods that contain no artificial flavors, artificial preservatives, trans fats , or high fructose corn syrup, I jumped at the chance.  Soon enough, a big box arrived at my doorstep containing these goodies: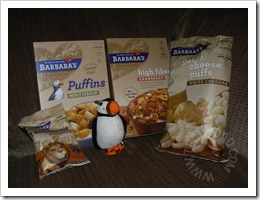 For the record, that's Puffins multigrain cereal, high fiber cranberry cereal, baked cheese puffs, Snackimals and a stuffed puffin.  Of course, the stuffed puffin was the item that my kids initially loved.
I had to convince them that the review wasn't about stuffed animals, but about food.  Luckily, they were easily convinced to try the Snackimals.  After all, what kid wouldn't want to try animal crackers with chocolate chips in them?  The boys split the bag almost in half with B and I snatching a precious few cookies to try.  They were very good.  You could definitely taste the molasses (most likely used to replace high fructose corn syrup or another not-so-good-for-you ingredient), but it worked nicely in the cookie's taste.  There were definitely no complaints from the boys (other than when the bag ran out of cookies).
The boys weren't as enthusiastic about the high fiber cranberry cereal.  Then again, this is high fiber cereal.  Not exactly the kind of thing kids rush to!  I, however, really liked it.  The cranberries gave a nice, sweet/tart flavor and the high fiber cereal, of course, was very nutritious.  I could definitely eat a bowl of this for breakfast (and, in fact, have done so).
The Puffins cereal was another favorite of NHL's.  He kept asking for more and would eat half of each puff just to sneak a peek at it's hollow center.  I loved this too.  It was quite sweet despite the low sugar count on the nutritional label (6 grams for a 3/4 cup serving).  I think NHL would be quite satisfied with having this for a snack instead of some high sugar treat.
Finally, there were the baked cheese puffs.  Cheese puffs aren't something we typically have around the house so this was a rare treat for the boys.  They both enjoyed these as did I.  They were light and airy with a good crunch.  I could definitely see buying these for the boys.  (My only disappointment with these was that they weren't kosher like the other products.  That happens often when one deals with foods containing cheese, though.)
All in all, we loved the Barbara's Bakery items and will definitely be on the lookout for more of their products the next time we're walking through our supermarket's organic aisle.
Disclaimer: This post was written for Family Review Network & Barbara's Bakery who provided the complimentary product for review in exchange for my honest review.