Aloha Friday: Daddy, I'm Scared Of Dying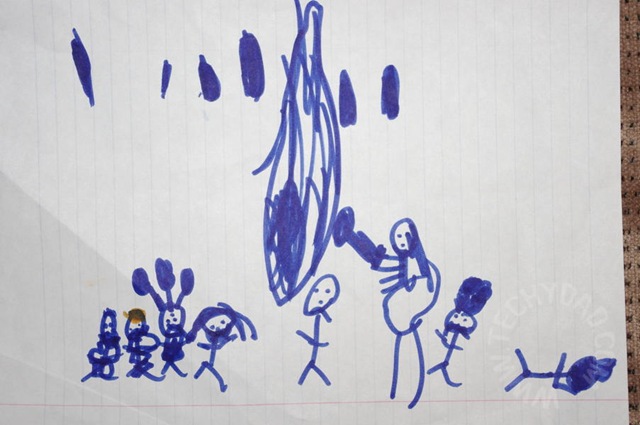 On Tuesday night, I tucked the boys in as I always do, got my computer and sat down beside JSL's bed.  As I always do.  As they always do, my boys decided it wasn't *quite* time to go to sleep.  Instead, they were going to trot out delay tactics.  NHL said his stomach hurt and I told him it was probably gas and to go to sleep.  Then he said something that made me realize that he wasn't delaying.
"Daddy?  I'm scared.  I'm scared of dying."
Uh oh.
To be honest, I think this fear has been in the back of his mind for some time now.  Ever since B's grandfather passed away nearly four years ago.  NHL was very close with B's grandfather.  They loved spending time together eating ice cream or Dunkin' Donuts munchkins.
What NHL didn't understand was that his great-grandfather wasn't well.  He had Parkinson's disease and was slowly but surely succumbing to the illness.  When I first met B, her grandfather walked with the aid of a walker with only occasional trouble.  Eventually, he couldn't reliably stand on his own for too long.  He would fall over and I would need to rush to B's grandparents' apartment to help lift him.  (Lifting a 200 pound man who can't help you lift himself isn't easy!)
Eventually, B's grandfather was moved to a nursing home.  Of course, Parkinson's is an unforgiving disease and it kept progressing.  Eventually, his mind went as well.  He would be perfectly lucid one moment and talking to me as if it were decades in the past another.
When we last saw B's grandfather, NHL refused to go near him.  We think he could sense something was wrong.  We were there to say our goodbyes.
In the years since his great-grandfather's passing, NHL has occasionally displayed an interest in death.  He would talk about death in ways that made adults uncomfortable.  Completely innocently on his part, of course, but still uncomfortable.
Fast forwarding back to Tuesday night, I hugged NHL and told him that he didn't have to worry.  He mentioned that everyone dies and I agreed but added that he wouldn't die for a long, long time.  He mentioned being scared about being buried and eaten by ants.  I told him that his soul, the part of him that makes him him, would go to heaven.  This soothed him enough for him to go to sleep.  Still, I could sense the impending bad dreams and repeated awakenings the night would bring.
My Aloha Friday question for today is: Have you spoken with your child about death?  If so, what did you say to them?
---
Thanks to Kailani at An Island Life for starting this fun for Friday. Please be sure to head over to her blog to say hello and sign the McLinky there if you are participating.
Aloha #71