A Guest Noodle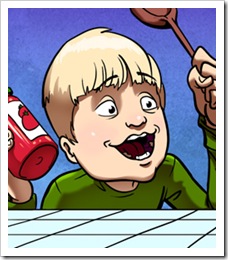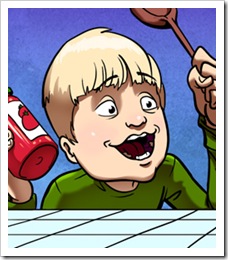 One of my great pleasures in life (besides my wife and kids) are comic strips.  I've been reading comic strips for as long as I can remember.  I used to get the paper as soon as I could, tear it apart until I could find the Funnies and pour over Peanuts, consume Calvin and Hobbes and get freaked out by the Far Side.  As the Internet took off, I sought out my favorite comic strips online.  At first, the pickings were slim but little by little the comics came online.
Then, I noticed something interesting.  Not only were the comics I knew and loved online, but a lot of other comics were online as well.  Comics with no large syndicates backing them were sprouting up left and right.  Some might have spoken to a niche, some might not have fit into your average newspaper and some were just too out there for the comics page.  Not all of them were good, of course, but many of them were.
I began following a lot of comics.  One of the newest ones that I've followed is called Noodle Knobs.  It features a mom, dad and a kid nicknamed "Noodle Knobs."  Here's the twist: The characters in the comic strip aren't fictional.  In fact, the family is quite real.  The artist is the father (known on the site as The Daddy).  In addition to comics, NoodleKnobs also features a blog where The Mommy and The Daddy discuss (separately or together) various topics ranging from illness to kids toys to nicknames.
But today's NoodleKnobs has a special place in my heart.  Why?  Because my boys and I are in it!  Yes, NoodleKnobs put out the call for parents to guest blog about their own NoodleKnobs.  I answered and that guest post runs today, along with a comic that The Daddy drew.  The teaser above is a shot of JSL meant to whet your appetite.  Is it whetted yet?  Then head on over to NoodleKnobs.com to read my guest post and see the full comic!