Disney World Vacation 2011: Hidden (and Not So Hidden) Mickey and Friends #DisneySMMoms
B quite nicely explained our arrival in Disney World for the 2011 Disney Social Media Moms Celebration.  As we checked in to our room and made our way around the hotel and parks, NHL and JSL began noticing things they hadn't noticed before: Mickey Mouse. 
No, not that Mickey.  I'm talking about the more hidden variety.  Like on the floors of the hotel in the tiles.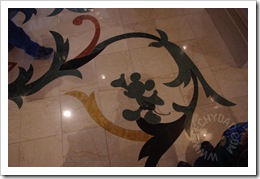 Of course, Mickey wasn't alone there.  His friends Pluto, Donald, Minnie and Goofy joined him.
In the room, the boys noticed a Mickey hidden (not so subtly) in our towels.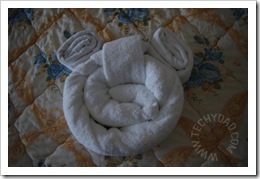 They also spotted his face in a lamp.  (Again, this one was pretty obvious.)
Then, JSL made a discovery.  There was a second Mickey on the desk.  Not on the lamp, but hidden in the woodwork.
Later on, we discovered that the tiles by the elevator held a certain fairy.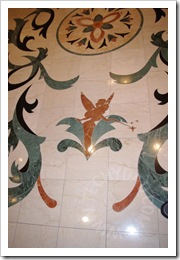 I'd like an extra large order of pixie dust, please.
When it was time for us to join B for dinner (after her Disney's Fairy Tale Weddings and Honeymoons Platinum Soiree), we spotted a few more Mickey-and-Friends in the rug.
We also noticed, in the Grand Floridian's lobby, Chip, Mrs. Potts and a certain magical rose.
Our final Hidden Mickey of the night, though, was the proudest one.  NHL and JSL looked at the floor and declared "Mickey!"  Sure enough, there was a Mickey hidden in the pattern.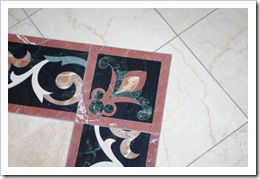 A family saw me taking this taking this photo and wondered why I was taking a photo of the floor.  Then, they saw the Mickey.  As we walked along the same path for awhile, their daughter kept pointing out Mickey's appearance in every tile.  I'd like to think we transferred a bit of Hidden Mickey Fever to her.  (The only cure: More Mickey Mouse!)
Of course, that night the boys got to see the real Mickey Mouse along with Minnie, Goofy and Pluto:
Oh yes, and I also got this dessert, despite the fact that I had a full plate, because of Minnie's appearance on it.