Is Winter Over Yet?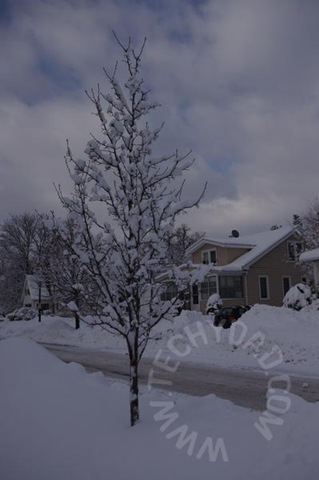 On Thursday, I was cleaning off my car when I slipped on some ice.  My legs went down under my car while the rest of me fell into the snowbank.  I was unhurt (or so I thought at the time) but had trouble getting up due to the slick surface under my feet.  I finally got out from under my car, dusted off my pants, and headed into work.  Unfortunately, my "unhurt" status changed over the course of the day as my neck/back began to hurt.  I realized that I must have wrenched it on the way down.
On Friday, we got at least nine additional inches of snow.  The following morning, I took some photos of the beautiful landscape.
Then, we went to B's parents' house.  Their driveway had been plowed and they had a mountain of snow in their backyard.  The boys and I had fun playing in the snow for a couple of hours.
While this was fun, we've also had our gutters fall down from the weight of the ice on them and our seasonal snowfall totals are over 77 inches.  (Normal snowfall for the entire season is under 49 inches.)  The sea of white makes for driving difficulties (narrowed roads, trouble getting out of our driveway, blocked views when going around turns) and blinding reflections.  I'm ready for these piles to melt (even though I know we'll have a flooding/muddy mess for awhile) and for the warmth to begin.  It's March now.  Is it Spring yet?