Dinosaur Train Toys Review and Giveaway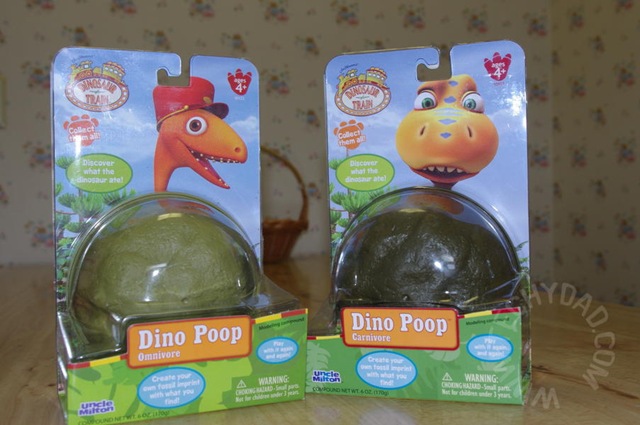 My boys love the Dinosaur Train television show on PBS by The Jim Henson Company.  They also love playing with toys.  So when I was given the opportunity to review three Dinosaur Train toys from Uncle Milton's Toys, I was excited.  When I saw that the toys had educational value, I jumped at the opportunity.
Dinosaur Poop
Let's be honest.  Tell any kid that you're going to let them play with poop at the table, and they'll look at you funny.  But once you take out this product, they'll be crying for you to open that package quicker.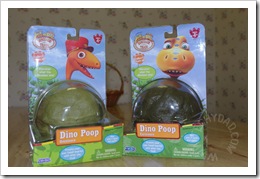 Of course, the contents are not really poop, but a brown dough-like substance.  They come inside of a storage container to keep the "poop" fresh between uses and some pieces of the dinosaur's most recent meal.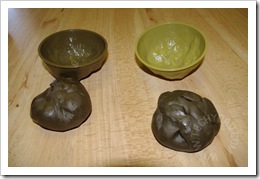 In the case of a carnivore, these pieces are 2 fish skeletons.  In the case of a herbivore, 2 plants.  An omnivore has one fish and one plant.  The pieces can be put together like a puzzle for even more fun.
Once all the pieces have been found, you can flatten the poop and press the fish skeleton or plant into it to form a fossil impression.
You can also get more creative and form poop sculptures.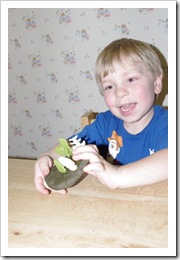 Of course, this toy can also lead to interesting statements from parents such as "Who wants to play with poop?" or "Keep that poop on the table and not on the floor!"
Hatchers
How would your child like to grow his or her own dinosaur?  Hatchers lets your child do just this.  Each package contains an egg.
Drop the egg into a glass of water and out hatches a dinosaur.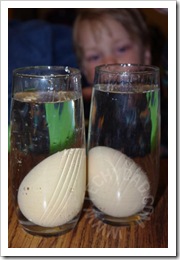 Ok, not immediately.  This is the tough part.  The hatching takes about two days.  So children get to learn a lesson in patience.
Dino Track Discovery Pack
My boys love games.  So it was only natural that they loved playing with the Dino Tracks.  Each package comes with three trails.  Each card contains a dinosaur footprint on one side and some dinosaur facts on the other.  There are also two "egg" cards with suggested games such as follow the trail or try to jump the space of one dinosaur stride.  (As you can see, one T-Rex step is just a little bit shorter than JSL on top of NHL.)
Giveaway
Thanks to Uncle Milton Toys, one lucky winner will receive a Dinosaur Train prize pack which includes two packages of Dinosaur Poop and two Dinosaur Train Hatchers. To enter, simply leave a comment below answering this question: What is your favorite dinosaur?
You can also earn bonus entries by doing any (or all) of the following items. Just be sure to leave a separate comment for each item that you complete.  (Don't just leave one comment listing everything you did.)
Follow @TechyDad on Twitter. (1 bonus entry)
Tweet about the giveaway on Twitter. Be sure to include @TechyDad and a link to this post in the Tweet. (1 bonus entry per day) For example: Play with poop and hatch some dinos with @TechyDad's Dinosaur Train #Giveaway http://bit.ly/jB2JcX
Subscribe to my RSS feed or let me know if you already are. (1 bonus entry)
Leave a comment on any of my non-giveaway posts from April/May/June. Leave a comment here letting me know which post you commented on. (1 bonus entry per comment, maximum 3 entries)
Enter any of my open giveaway posts (excluding this one, of course).  Leave a comment here letting me know which giveaway you entered. (1 bonus entry)
Write a post on your blog linking to this giveaway. Leave 3 comments about this to get credit for all of your extra entries. (3 bonus entries)
To enter, please follow the rules above within the comment section. Contest starts today, May 24th and ends at Noon EST on June 7th, 2011. You do not have to be a blogger to enter, but must leave a valid e-mail address for me to contact you for mailing address once the giveaway is over. I will select the winner using random.org and contact you via e-mail. You will have 48 hours to claim the prize. If there is no response, another winner will be selected. Open to U.S. residents only.
Disclaimer: The products were provided for this review by Uncle Milton.  The opinions expressed above are my own.