Across Two Playgrounds and Blue Buds
On Sunday, with the boys going stir-crazy and driving us just-plain-crazy, I put the boys in the car and headed to a park that we heard had a new spray ground.  The spray ground looked really cool and we'll have to go back there one day.  For today, though, the boys were content with playing on the drier equipment.
After picking up B and going to lunch, we decided to head to another park for another quick playtime.  At this park, the boys' favorite attraction is the hedge maze.
Of course, they went on normal playground equipment as well.  As usual, NHL went off on his own while JSL insisted that I accompany him.  Thus all of the photos coming up are of JSL.
And, just because I like this photo, here are some budding flowers on one of our bushes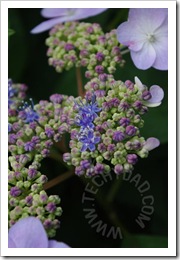 What playground features do your kids enjoy the most?
While you're here, remember to enter my Outback Steakhouse gift certificate giveaway.